Cardiff tech firm: 'We'll pay £100k, but can't get staff'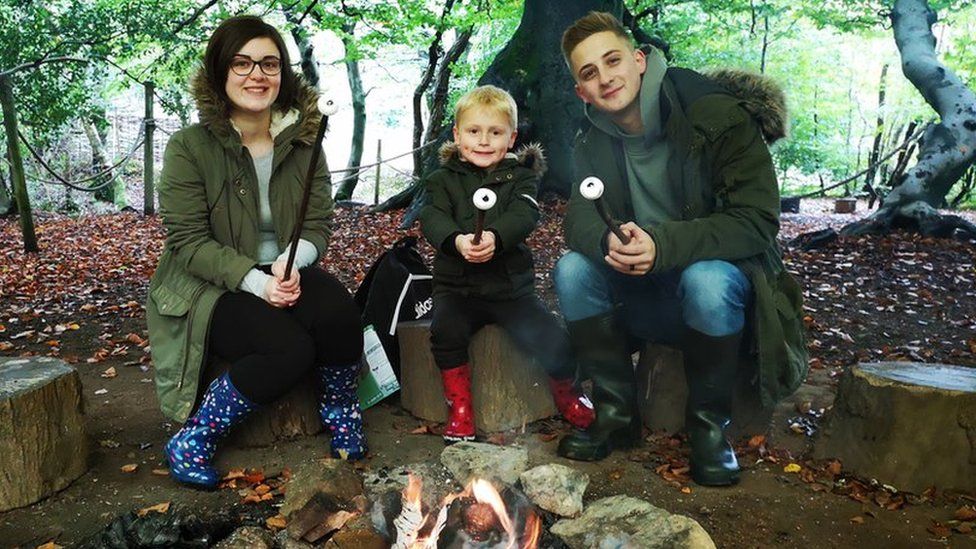 A Welsh multimillion-pound tech firm is unable to recruit the staff it needs, even though it is offering London levels of pay of up to £100,000 a year.
MyPinPad needs 100 software engineers in Cardiff to roll out a new product.
It comes as the UK digital minister said firms developing digital technology are crying out for more skilled staff.
A Cardiff recruitment agency said it had also seen an increase in salaries in the tech sector.
Cardiff-based MyPinPad has developed a product it says makes mobile phone payments easier and more secure. They have 114 global patents for the product - but they cannot get the staff they need.
"We're paying London-weighted salaries," said commercial director Allan Syms.
"But that still isn't enough to attract people if they don't feel that there's enough flexibility in their work careers going forward."
In other words, they need to be confident they will have chance to progress. This can be more difficult in a smaller city, even though Cardiff's tech scene is growing at a faster rate than the UK average, according to Tech Nation, which represents the industry.
On the right end of the skills shortage are tech workers like 30-year-old Gareth Livermore, originally from Caerphilly. He receives regular job offers - but pay is not his only concern.
Three years ago he left his retail job to retrain at Cardiff University's software academy. He then immediately joined Cardiff-based Admiral Insurance, Wales's only FTSE 100 company, as a programmer helping to build the IT systems that underpin its websites.
"Daily on LinkedIn, you get a lot of recruitment agents," he said. "They see what skills you've got and they can be used all over the country. They really try to take you and sell you, as well as other companies - they'll come directly to you and try to see if they can sway you with a bigger salary."
He does not rule out a future move but for now he is not interested in leaving Wales. He likes living with his five-year-old son and wife in Pontypool "surrounded by forests" - and the lower cost of living in Wales is a huge plus.
Unfortunately for smaller Welsh firms, he also sees lots of career opportunities at Admiral.
Tech Nation estimated that in the Cardiff area 4,640 people work in digital businesses, and 21,508 people are now employed using digital skills but in other types of business, such as insurance.
The UK government's minister for digital and creative industries Margot James said the whole technology sector is growing two and a half times faster than in the economy as a whole.
While workers with all kinds of digital skills are generally paid less in Wales than the rest of the UK, MyPinpad are not the only ones increasing pay to woo staff.
Rhys Lewis from specialist recruitment firm CPS Group, which has offices in Cardiff and London, said this year they have seen a further increase in the demand for skilled people - and consequently a rise in salaries.
But Mr Livermore is not the only tech worker who thinks about more than money.
Mr Syms added: "There are great benefits for working [at MyPinPad], and great excitement, because the other thing that people come for is not just the money, they come for a lifestyle, they come for fun."
'We chose the quality of life'
Ellie and Paul Lacy gave up significantly higher salaries in London to move to a tech-based company in Cardiff that deals with finances.
They enjoy trail running , walking and generally being outdoors and Cardiff "ticked the boxes" when it came to lifestyle.
They now both work for Delio which develops technology for wealth management companies.
"I want my work life to be everything I left in London - I want it to exciting, fast-moving but at the end of the day I want to be able to run home and enjoy a slower pace of life and not be crammed into a train," said Ellie. "I want it all really and Cardiff ticked all the boxes which I didn't expect, to be honest".
"There's lots going on, we're big outdoors people and Cardiff is an a exciting city too."
Her husband Paul, who is now product manager, said they took "significant " pay cuts to move from London to Cardiff.
"When I speak to my previous colleagues and they see the size of the house I can afford here compared with the one in London it makes a lot more sense. Yes, there's a pay cut but the cost of living is much lower and so the quality of life actually goes up.
"Cardiff is quieter but there is a lot going on and within 20 minutes you can be in the mountains. The improvement in quality of life and the amount of money I have left each month have gone up."
Related Internet Links
The BBC is not responsible for the content of external sites.