'Fred and Rose West' couple jailed for rapes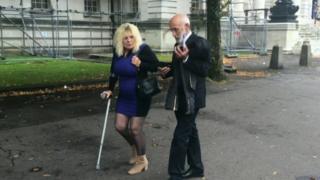 A husband and wife who raped and indecently assaulted young girls have been given lengthy jail terms.
Peter Griffiths, 65, was sentenced to 21 years and Avril Griffiths, 61, was sentenced to 15 years.
Cardiff Crown Court heard the couple - dubbed "the Fred and Rose West" of their Barry estate in the Vale of Glamorgan - abused girls on a boat and at home in the 1980s and 1990s.
Judge Jeremy Jenkins said the couple had "few if any sexual boundaries".
During the trial, claims were made that police officers were present when a young girl was raped on a boat while others watched.
South Wales Police said it was investigating after allegations of contact between officers and Peter Griffiths were reported.
It comes after the court heard how the couple "destroyed" the lives of their three victims.
In a statement, one woman, who cannot be identified, said: "I feel what has happened to me has destroyed my life, they destroyed my childhood.
"I blamed myself for a long time. The abuse has affected my mental health all my life."
She said she was constantly scared she was going to be attacked, and that she had turned to heroin because it "numbed my emotions".
"I do not think I will escape the abuse I suffered at the hands of them," she added.
Another victim said she had tried to take her own life in the past because of the abuse, and that she had "never felt able to tell anyone what happened".
She said she was still "fighting demons", had been a heroin user and was "frightened of relapsing into a life I left behind".
The Griffiths' third victim said: "I'm so scared because when Peter raped me I felt powerless. I have flashbacks, with him on top of me and her next to me, it's a recurring nightmare."
The couple's abuse took place throughout 1980s and 90s, where Peter Griffiths used his wife, who is deemed to have a low IQ, as "bait" to lure young girls to him so he could rape them.
Attacks took place in their home, on a boat and in the back of a van, while on one occasion Mrs Griffiths held a girl down telling her it "wouldn't hurt" as her husband raped her.
One of their victims described them as the "Fred and Rose West" of their housing estate.
Det Sgt David Rich said: "Today's sentences reflect the gravity of the crimes which have been committed by Peter and Avril Griffiths. This couple who were responsible for appalling abuse have now been brought to justice.
"I would like to commend the three victims in this case who have shown immense strength and courage throughout the investigation and court proceedings. I hope today's sentence provides some closure for them and their families as they attempt to move forward with their lives.
"Survivors of abuse by predators like Peter and Avril Griffiths deserve to see them brought to justice and we are determined to do all we can to help them."
Det Ch Insp Justin Evans said: "Following the convictions of Peter and Avril Griffiths, two people have reported allegations of non-recent sexual offences to police.
"We are investigating these allegations and they are being supported by specially trained officers."
Peter Griffiths was found guilty of eight offences of rape, two of taking an indecent photograph of a child and three of indecent assault.
His wife was found guilty of five offences of rape, two of taking an indecent photograph of a child and two of indecent assault.