Cardiff dog owners march across city in ban protest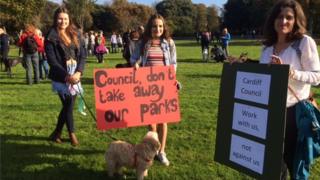 Hundreds of dog owners have walked through Cardiff in protest at plans to ban dogs from sports pitches.
More than 15,000 people also signed a petition, saying it would stop them using much of the city's green spaces.
The council is consulting on plans that could see £100 on-the-spot fines issued for offending dog owners.
However, Clare Fanson, who organised the protest, said: "Many of us feel we are all being punished for the few who do not clean up after their dogs."
South Wales Police tweeted more than 500 people had attended the walk.
Those taking part walked from Llandaff Fields, through Pontcanna Fields, Bute Park and across North Road to City Hall.
The council said the move was necessary because it received 500 complaints about dog fouling between April 2016 and April 2017.
However, campaigners have questioned the figure, and a Freedom of Information request revealed four dog fouling fines had been issued in the past 12 months, and 142 in five years.
A council spokesman said the consultation was taking place as it looked to clamp down on dog fouling.
He said if it progressed, a public space protection order could see dogs banned from enclosed playgrounds, marked sports pitches and schools.
"Every year, we receive a significant number of complaints about dog fouling and out of control dogs in public places, and while the majority of dog owners are responsible and do the right thing by cleaning up after their dog and keeping them under control, there is a minority who cause significant problems," he said.