Dutchman's 'pure shock' after winning Cardigan bookshop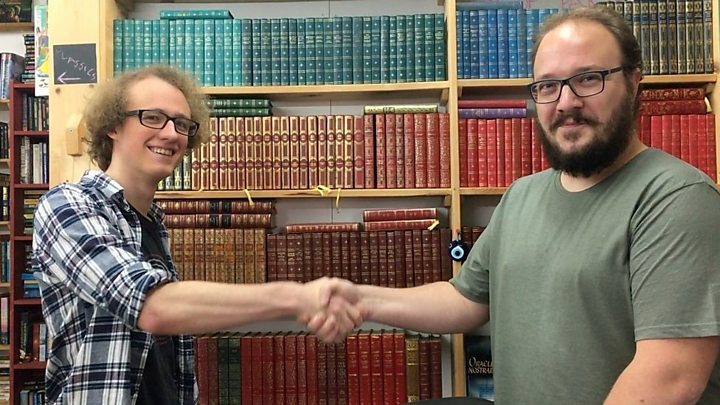 Four people's lives are about to change completely thanks to a bookshop raffle draw in a small west Wales town.
But not because of a large cash prize - Paul Morris and his wife Leila, owners of Bookends in Cardigan, are giving their beloved bookshop away.
The couple will now fulfil a lifetime ambition by travelling the world.
The winner of that draw, Dutchman Ceisjan Van Heerden, known as CJ, will run the shop with his Icelandic friend Svaen Bjorn, 23, who he had never met.
"We decided we want to make the most of our life together while we are young enough to enjoy it," said Mr Morris, explaining why he and Leila decided to give the shop away.
"I lost my sister-in-law in New Zealand in January and that had a big effect on us - she was only 48."
He added that the idea to give the shop away came from the couple's belief in "equal opportunity" and to provide a source of income for someone else.
When he told CJ, who is from Vrij Bij Duurstede and a "regular customer" at the bookshop, Paul said "there was a lot of silence" and he could tell he was "stunned".
"It was pure shock initially," said CJ. "Then I thought 'this is an amazing opportunity, let's do it'."
But CJ did not want to run the shop alone and called around some of his friends, one of whom had already shown an interest.
CJ had known Svaen Bjorn, a 23-year-old from Reykjavik in Iceland, for eight years through online gaming but the pair had never met in person.
"He got back to me and said 'yeah, let's do it'," CJ recalled ahead of the official handover on 5 November.
Mr Bjorn added: "It was a mix of emotions - you know, am I dreaming? Is this reality?
"But it was mostly excitement about the whole thing really."