Mumbles murder accused told police his wife 'wanted to go'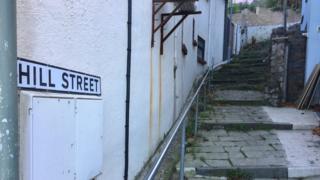 A man accused of killing his wife before trying to make her death look like suicide told police "she wanted to go", a court has heard.
Derek Potter, 64, denies murdering Lesley Potter at their home in Hill Street, Mumbles, in April.
Mrs Potter's body was found on a table and Mr Potter said he had cut it down before paramedics arrived.
Swansea Crown Court also heard Mr Potter told police he "did not think that she would go through with it".
Det Con Martin Loosemore was one of two officers who arrested Mr Potter on 30 April, about a week before Mrs Potter was due to be cremated.
He said the defendant starting talking "virtually instantly" after getting into a police car.
Det Con Loosemore said he had pulled the car over and made a note of the remarks, which the defendant signed three times.
It read: "She wanted to go, she had made her choice.
"I put up the bit of wood. I tied the knots. I did not think that she would go through with it."
Mr Potter also told the officers he and his 66-year-old wife had an "S&M relationship" and he had "strangled her in the past" during sex games, the court heard.
Another arresting officer, Det Con John Nichols told jurors that Mr Potter had said that he "helped her" take her own life.
'Laughing and joking'
Jurors also heard a statement from business owner Michael Knight, who had employed the defendant to fix a roof for him.
Mr Knight said he found it "odd" that Mr Potter was "laughing and joking" with him two days after his wife's death.
Previously, the trial heard that police did not treat Mrs Potter's death as suspicious.
But the case was re-examined three weeks after her death when a woman told police Mr Potter had confessed to strangling his wife.
The trial continues.