School funding: 'Inequality could hamper' new curriculum roll-out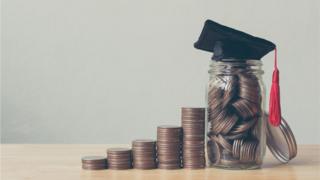 Calls have been made for a review into the "unequal" way schools are funded in Wales over concerns it will hamper the roll-out of the new curriculum.
Schools have been tasked with developing their capacity to deliver the new syllabus in 2022.
Although good progress is being made, a review found a "considerable proportion" of schools are lagging behind on making the necessary changes.
The Welsh Government said funding was the responsibility of councils.
Authors of the report, by the Organisation for Economic Co-operation and Development (OECD), said the current funding model had led to "the lack of a level playing field," with schools in some areas being given different amounts to similar schools elsewhere.
The report focused on how schools are developing their capacity to deliver the new curriculum successfully.
Although the report found many schools were "well on their way" to developing as "learning organisations," there were concerns a significant number were not.
The research by the OECD, which is responsible for running the influential PISA tests , says secondary schools are lagging behind primary schools in preparing for the new curriculum.
"The evidence suggests that differences in local funding models are causing concern about unequal treatment of schools in similar circumstances," the report said.
"The Welsh Government should therefore consider reviewing its school funding model if it is to realise its ambitions for equity and education and student well-being."
How are Welsh schools funded?
The Welsh Government allocates money to councils to pay for services such as schools using a range of factors.
But there have been complaints the formula is out-dated and some councils are losing out.
Councils are responsible for deciding the budgets for individual schools.
They retain some cash centrally to pay for services, including support for children with additional learning needs and school transport, and allocate the rest to schools based on their own formula.
Although 70% of the cash must be given on the basis of pupil numbers, councils have discretion to allocate the rest according to their own priorities such as the condition of school buildings, levels of social deprivation or how rural the school's location is.
It means similar-sized schools in different parts of Wales can end up with very different budgets.
Other recommendations in the report included:
Public colour-coding of schools should be ditched as part of a move away from a "high-stakes" approach to measuring schools
Student "well-being" should be clearly defined and have greater emphasis when evaluating schools
The Welsh Government should consider delaying any move to cut the number of councils to "ensure all efforts remain focused on bringing the new curriculum to life in schools across Wales"
Several smaller local authorities "lack the capacity" to respond to the needs of children with additional learning needs
The Welsh Government said each council was responsible for determining how much funding was allocated to each school.
"There is potential to make changes to the funding formula for local government, but this must be done with collective buy-in from councils," a spokesman said.
He added ministers would closely monitor a review by the assembly's children, young people and education committee, which was launched into school funding.