Literature Wales and 'rival' quangos 'must collaborate'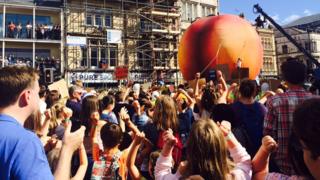 Proposals to strip Literature Wales of most of its responsibilities have been rejected by the Welsh Government.
Instead it has urged the body to work closely with the Welsh Books Council and the Arts Council of Wales (ACW).
Last year an independent review was strongly critical of Literature Wales's management and governance and argued much of its work should be transferred to the Welsh Books Council.
Literature Wales said it agreed with the emphasis on greater collaboration.
In a letter to the chairs of Literature Wales, the Books Council and ACW, culture minister Lord Elis-Thomas called for the three bodies to work together "in genuine partnership and with mutual respect".
The independent review published in June 2017 was chaired by Prof Medwin Hughes.
The Welsh Government's measured response follows the conclusions of an assembly committee report published in March, which found there was "little evidence" that Literature Wales was either unfit to receive public funding, or that it was in danger of collapse.
'Jealousies'
However the committee was critical of the public reaction to the publication of the review, which had been termed a "dud" by the chair of Literature Wales.
Committee member Dawn Bowden AM had observed that the sector was "rife with factionalism, rivalries and jealousies" and questioned why some received public funds.
In 2015/16 the Welsh Books Council received £3.6m from the Welsh Government, while Literature Wales had an income of around £1.2m, including more than £700,000 from the Welsh Government via the Arts Council of Wales.
In his letter responding to the review and the committee report, Lord Elis-Thomas said:
Literature Wales should retain responsibility for Wales Book of the Year, but he expected them to form a closer partnership with the Welsh Books Council and other interested organisations
A "working group" between Literature Wales and the Welsh Books Council should be formed to establish how best to distribute grants in future
There should be greater collaboration on activities for children, young people and literary events
ACW described the proposals for closer working as "sensible", while the Welsh Books Council said "working in partnership strengthens our services".