Police respond to 'intimidating' Kingdom dog warden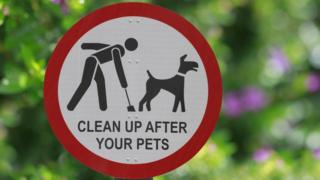 Police were called to a dispute with an "intimidating" officer working for a controversial enforcement company, BBC Wales has learned.
Kingdom has issued 915 fines on behalf of Torfaen council since May 2017 and has been criticised elsewhere in Wales.
Several people have complained about a dog warden in Cwmbran, including a women who called the police after being told she would be "followed home".
The council said it and Kingdom investigate complaints.
There is no suggestion the warden committed a crime and Kingdom referred to the council's response when asked for a comment.
Dog walker Kelly McFlynn claims she was told by the enforcement officer she was going to receive a £100 fixed penalty notice after her cockapoo, Buddy, ran onto a sports pitch in Llanyravon.
While she agrees with fines for irresponsible owners, she argued the pitch was unmarked at the time.
She said the warden then followed her and her three daughters for 15 minutes, asking for her name and address.
When she called the 101 non-emergency number, an officer arrived and clarified with the council that no fine was to be issued.
She added: "I just found it sinister that he continued to walk a matter of five meters behind us, slowly, on our way out of the park."
Gwent Police confirmed it was called to a "dispute between a dog walker and dog warden" in July this year.
Two other dog walkers have complained of intimidating behaviour.
Marilyn Williams, 70, was issued with a fine by the same warden on the same day as Ms McFlynn, and also argued the pitches were unmarked.
She said she felt "intimidated" and "harassed" by the warden who followed her and her grandson for 20 minutes asking for her name and address.
Mrs Williams said she later received a second fine in the post from the same warden for placing a cigarette butt on the floor while tying her grandson's laces.
She said she was "shocked" as she had picked up the butt in front of the warden after finishing with her grandson's laces and appeals have been made.
Karen Jones said she was followed by a warden in Llanyravon for 20 minutes in March this year when she was fined and claimed a warden was "watching her every move".
She said she felt so intimidated by the warden that she had to call her husband away from work to meet her in the park.
And another, Glynys Edwards, said she became upset when a warden used "hard talk" after issuing a £100 fine - also in March.
Torfaen council said it had a month-to-month contract with Kingdom and fines should only be issued on marked sports pitches.
A spokesman, who said there had been 42 complaints since May 2017, added: "Any complaints about an officer's behaviour are investigated".
It is not the first time Kingdom has come in for criticism.
Last year BBC Panorama found Kingdom officers were paid money for each fine they issued but it said its competency allowance was not a paid incentive for officers to issue fines.
Since 2013, Kingdom has had contracts with eight Welsh councils but one deal with Gwynedd lasted less than 24 hours.
The company has also been dropped from or not renewed contracts with Anglesey, Conwy, Denbighshire, Flintshire, and most recently Wrexham.
It also came under fire after visitors to an adventure park were fined for dropping litter on private land not within Kingdom's remit.