Man guilty of £700k NHS Powys fraud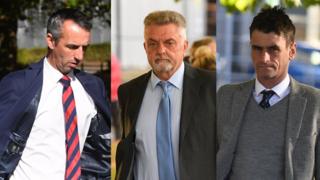 A man has been found guilty of defrauding the NHS of £700,000.
Michael Cope, 42, had denied ensuring building contracts were awarded to a rotten company while working for Powys Teaching Health Board in 2015.
His colleagues Mark Evill and Robert Howells previously pleaded guilty to the fraud, which cost taxpayers £1.4m to put right.
Cope claimed he knew nothing about the scam but was convicted at Merthyr Tydfil Crown Court.
All three men will be sentenced on 2 November.
Together, they awarded construction contracts to a company Evill set up called George Morgan Limited.
The court was told the work carried out by the firm was so poor it cost £1.4m to fix.
Evill spent the company's profits on holidays to Dubai, expensive watches, property, and cars, including a vehicle for Howells for helping him.
To hide his involvement in the scam, Evill used the names Paul Hewson and David Evans in emails - the real names of Bono and The Edge from U2.
Cope, who worked alongside Evill and Howells in the health board's estates department, received a text message from Evill in July 2015 asking: "Do u think its worth bringing Steve for lunch Thursday….Also is it worth giving him a envelope to keep quiet" (sic).
Cope replied: "No definitely not… he's like Elliot bleeding Ness.. too straight butt." (sic)
A reference, the court was told, to the prohibition agent famous for resisting bribery to bring down gangster Al Capone in the 1920s and 30s.
Cope told the jury the texts were "throwaway comments", "jovial" and "banter".
He received a £500 cheque from Evill's company for his role.
Cope claimed he "just wanted to get paid" for work he had carried out, and did not look at who had signed the cheque.
"I don't care if it said Pablo Escobar", he said, adding: "I don't make a habit of looking at cheques."
The jury rejected his claim he knew nothing about the fraud.