Menai Crossing: Hopes for mythical Welsh giant bridge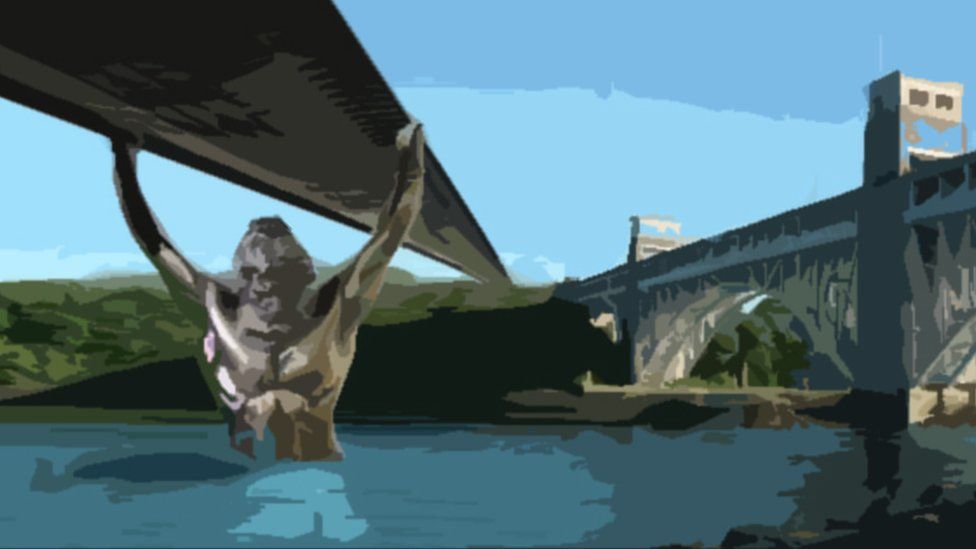 Visitors to Anglesey could have to cross the Menai Straits on a bridge held aloft by a mythical Welsh giant.
Benji Poulton, from Bangor, said the current designs being considered by the Welsh Government are "nothing special" and that his could boost tourism.
A Welsh Government spokesperson said "all options" would be considered.
Mr Poulton recently visited an exhibition of the various proposed designs for the new bridge to cross between Gwynedd and Anglesey and thought he could come up with a better idea.
"They are fairly standard options. There is nothing special there that could live alongside the other bridges," he said.
"So I went away thinking what could they do to create additional benefit, additional interest with the new bridge."
He remembered the Mabinogion tales he had heard as a child, and in particular the story of the giant Bendigeidfran (Bran the Blessed), who went over to Ireland to wage war against the king of Ireland, Matholwch.
According to the legend, the Irish soldiers retreated over the river Shannon and burnt all the bridges but Bendigeidfran lay over the river so that his soldiers could walk across his body to the other side.
He is reputed to have said 'a fo ben bid bont' - he who is a leader should be a bridge.
"I did some research and found that there are a lot of additional benefits to [create] something a little bit special, a little bit different," Mr Poulton added.
"It would bring in additional tourism to the area and promote Welsh culture.
He added: "It is definitely iconic and definitely a world first."
There are currently two Menai Strait crossings - the Menai Bridge, which was built by Thomas Telford in the 1820s, and Robert Stephenson's Britannia Bridge, which was opened to carry rail traffic in 1850 but was rebuilt in the 20th Century to also carry road traffic.
Plans for a third crossing have been in the works since a consultation in 2007.
The preferred route - the so-called 'purple route' - was announced by the First Minister Carwyn Jones earlier this month, and would see a new bridge built to the east of the existing Britannia Bridge.
A Welsh Government spokesperson said: "We recently announced the purple option as the preferred route for the third Menai crossing.
"Given the nature and sensitivity of the Menai Strait, further analysis will now be undertaken to develop a suitable form of structure that best fits within the existing landscape.
"All proposals will be considered during this next stage."