Road rage driver Darren Hefferman jailed for cyclist punch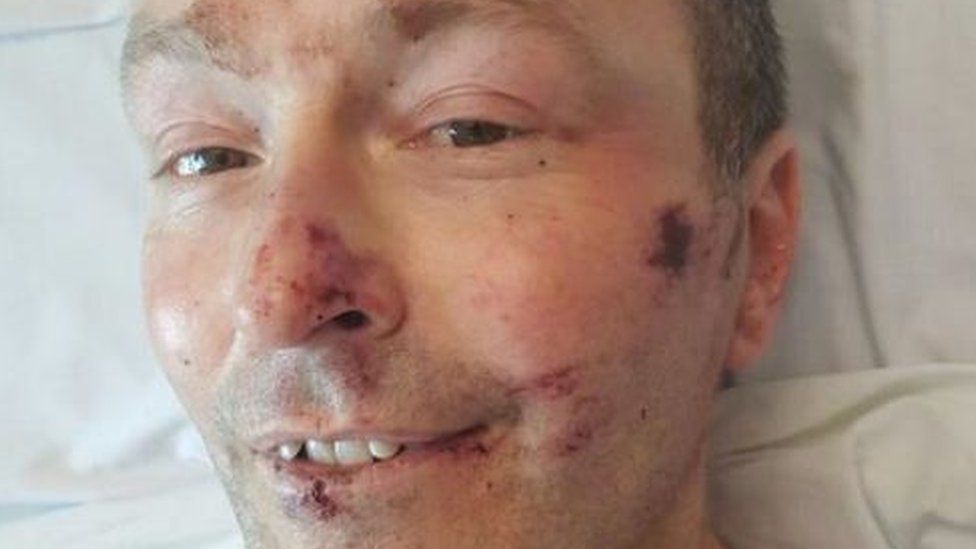 A road rage motorist who punched a cyclist into oncoming traffic has been jailed for two years.
Darren Hefferman, 38, overtook cyclist Gareth Marshall on Beaufort Hill, Ebbw Vale, but the victim shouted for more room as Hefferman passed him.
Newport Crown Court heard Hefferman waited for Mr Marshall a short distance later, got out of his car and hit him - causing him to get trapped under a van.
He pleaded guilty to grievous bodily harm following the 11 January attack.
The court heard Mr Marshall suffered multiple injuries, including a broken collar bone, multiple broken ribs, a damaged lung, shattered pelvis and dislocated hip.
Sentencing Hefferman, Judge Richard Williams said: "Your behaviour was arrogant, stupid and impatient. It shows a total lack of self control.
"Mr Marshall will have to live with the consequences of your actions for the rest of his life.
"This incident arose because of your total lack of ability to control your temper. Confrontations like this between road users have to be deterred."
Jamie Dewar, senior Crown prosecutor at CPS Wales, said: "He chose to stop his vehicle, chose to get out and chose to assault another road user, resulting in dreadful injuries.
"The CPS would like to thank the members of the public who gave details of what happened. The strength of evidence presented resulted in an early guilty plea."
In a victim impact statement, Mr Marshall, from Brynmawr, said he had lost fitness and confidence, and was "unable to do the simplest of things".
"I dream of death or falling or being chased by a car that is trying to kill me," he said.
Outside court, Mr Marshall added: "I can't thank the NHS enough for saving me and fixing me.
"Mentally you need to be strong to get over it but you'll always be looking over your shoulder from the day when the gentleman attacked me."