Blind and 'deaf' puppy abandoned in Llanelli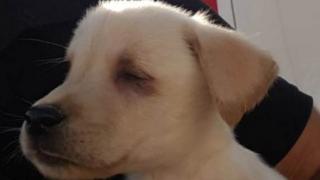 A puppy which is blind and likely deaf was found abandoned among a patch of trees.
The animal, thought to be a 10-week-old Labrador-type, was discovered by a member of the public in Llanerch in Llanelli.
The male dog has a rare condition known as microphthalmia which affects the development of the eyes.
He is now being cared for by a Carmarthenshire council dog warden while a foster home is found.
Councillor Philip Hughes said: "This is an extremely cruel case, and we'd like to know who could have done this."
You may also like:
Council staff suspected other puppies in the litter could have been born with the same condition and similarly dumped nearby, according to the Local Democracy Reporting Service.
But no other dogs were found following a search of the area, according to the authority's principal environmental health officer Robert Williams.
Councillor Hughes added: "We are very grateful to Brendan, our dog warden, who has gone above the call of duty to care for the puppy overnight.
"Despite his rare condition, we hope that he will have a good life with a new owner who will give him the care and support he needs."
Carmarthenshire County Council has appealed for information.