Mumbles Pier: Proposed development 'on protected AONB'
By Rhys Williams
Gohebydd BBC Cymru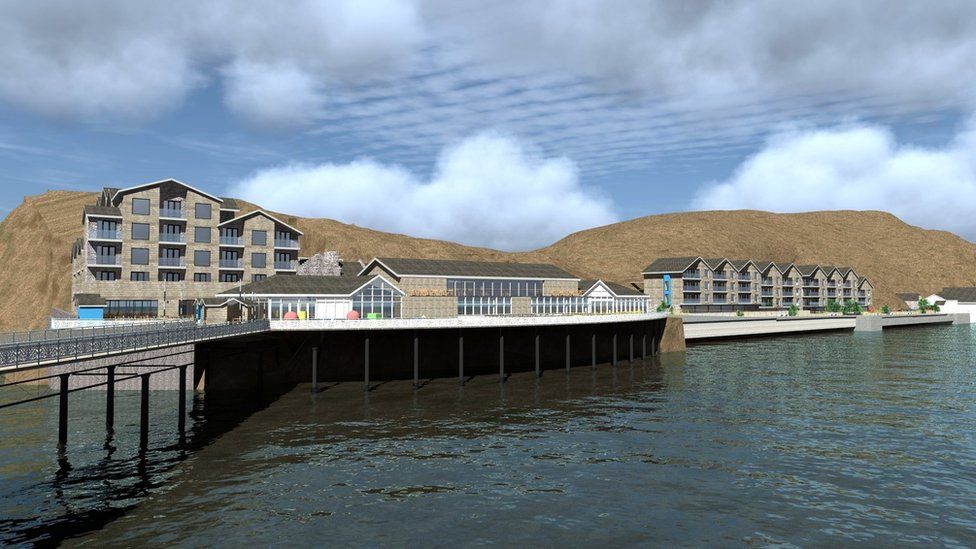 A proposed development at Mumbles Pier is on protected land, campaigners have claimed.
They allege the boundaries of the Gower Peninsula Area of Outstanding Natural Beauty (AONB) were moved in error in 2010.
They claim this resulted in the strip of land earmarked for development being moved outside the protected area's boundary, and want an immediate delay.
Swansea Council has been asked to comment.
In 1956, the Gower Peninsula was designated Britain's first AONB, which gave the area the same status and planning protections as national parks, with much stricter planning regulations.
Swansea Council has been considering the proposed development of a hotel and flats at Mumbles Pier under the assumption that it falls outside the AONB's boundaries.
But campaigners believe the council's map is wrong after discovering a copy of the original version of the map in the National Archives at Kew, which shows that the land falls within the boundaries of the protected land.
They allege the authority made an "error" while digitising the map in 2010.
In a letter sent to Swansea Council on behalf of conservation campaigners, Geldards solicitors said: "There is no legal basis for the use of the 2010 digitised map in any planning decision making".
The letter goes on to say it is a "very serious matter, with wide-ranging implications for the council" not only for this development, but all developments in the area in the last eight years.
Solicitors have requested that the council "delay any decision" in relation to the development until the issue is resolved.
Pier owner Ameco claims the £35m scheme is integral to the ongoing restoration of the 120-year old pier. A five-storey hotel and retail complex cut into the headland is at the centre of the project, along with 26 flats on the foreshore.
Jinny Howells, a member of the group, said: "Mumbles is known across the world and, in fact, it's used by Visit Wales to market this area, and indeed the whole of Wales, to the world. Once that building is there, that view is gone forever, and we'll never get it back."
"Swansea Bay is beautiful, Swansea is a lovely city, and this bay and this view belongs to everybody and it shouldn't be exploited for short term gain."
Related Internet Links
The BBC is not responsible for the content of external sites.