Alleged assault victims of killer Kris Wade 'not interviewed'
By Paul Heaney
BBC News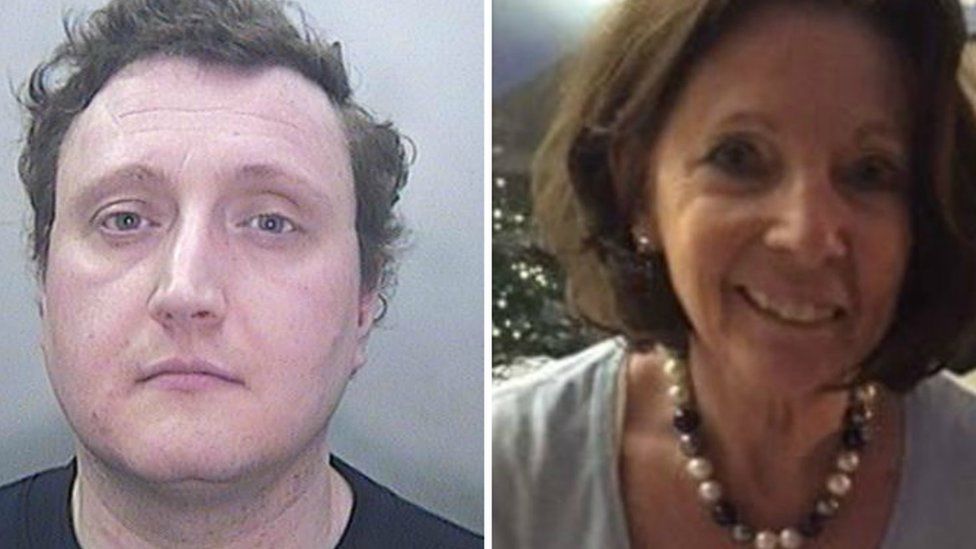 Women who claim they were sexually assaulted by a convicted murderer have "not been treated in the way that they should" by a Welsh Government-backed investigation, their lawyer claims.
Three women claim he assaulted them previously while working for Abertawe Bro Morgannwg University Health Board.
Health Inspectorate Wales (HIW) said engaging with individuals involved was "a core part" of its review.
But Alan Collins, from Hugh James Solicitors, said two of them were yet to be interviewed or updated by the team from HIW in what he described as an "unacceptable" lack of transparency.
The two women say they were sexually assaulted by Wade at Rowan House, a centre for patients with learning disabilities.
Bethan Sayed, Plaid AM for South West Wales, said not speaking to all of Wade's victims could be a "missed opportunity".
'He put his hand on my breast'
One woman spoke to the BBC anonymously about her experiences at Rowan House.
"I was in bed - I'd had seizures - he came in with another woman to see if I was ok, and then the woman went out and Kris stayed there.
"He lifted my top to look under it and then put his hand on my breast.
"I just froze, your brain's telling you to hit out and scream but you can't move.
"It effects you in all ways, because sitting here with you, if my mum wasn't here I wouldn't sit here, I'd be too scared to sit here, because I don't know.
"Even family, if they come up and give me a hug or a kiss I don't like it - and that's family, you shouldn't be scared of them."
"In my opinion [they] and their families have not been treated in the way that they should have been," Mr Collins said.
"They want there to be openness with regards to the investigation into how it came to be that Kris Wade came to commit sexual assaults and then go on to murder an innocent woman.
"Why was this man able to do that? Why was it that all the checks and balances seem to fail? That's what they want an answer to and I think the general public deserve that answer too.
"So far I have grave misgivings about that approach. It just does not feel transparent - some families and victims have not been approached in any way.
"There is a legitimate concern about transparency and as a consequence the ability of Health Inspectorate Wales to answer that key question."
Mr Collins said despite a desktop review into the incident, only an independent inquiry would have an ability to call witnesses and have access to the material held by the police and Crown Prosecution Service.
"You can't arrive at such a profound decision or opinion if you have not had access to all the evidence - that is a major flaw in my opinion," he added.
"We're none the wiser as to what is happening or how the inspectorate is going to address that question. The victims and their families do not have that confidence and that is troublesome."
He added: "You can have the best safeguarding policy in the world on paper but if the procedure gets bypassed then you are creating risk, and the public need to be assured that risk is minimised.
"The Wade case is just a very graphic example of where I would say safeguarding goes wrong."
When a patient is potentially put at risk, staff should fill out a 'serious incident report'
In 2010/11 there there 350 reports compared with 2,329 in 2017/18
The Welsh Government said it is good that more incidents are being spotted and rectified
Reporting levels differ depending on the area
Betsi Cadwaladr health board area had 13.6 incidents per 10,000 people
Aneurin Bevan area 5.2 incidents per 10,000 people
The Welsh Government said there are dangers in comparing geographical areas, but some feel further investigation is required
A spokeswoman for the health board said: "Although the CPS took the decision not to prosecute Kris Wade for sexually assaulting the three patients - despite an appeal by South Wales Police for a prosecution to go ahead - we believed that on the balance of probability it was likely that he had committed the offences. As a result we dismissed Mr Wade for gross misconduct.
"We have been in touch with the patients or their representatives to apologise and agree financial compensation for the assaults we believe were carried out by Mr Wade. Two cases have been settled and we hope the third will be soon."
A spokesman for HIW said: "Engagement with the stakeholders and individuals involved is, and will continue to be, a core part of the review and those who feel able to contribute a view will be able to do so prior to its conclusion in December 2018.
"We will keep all interested parties informed of progress of the review ahead of its publication."
A Welsh Government spokesman said it would not be appropriate to comment on the independent review while it was still under way.
He added: "The terms of reference, developed by HIW, include liaison with key stakeholders and relevant individuals."