Denbigh hospital: 'Beautiful building needs to be saved'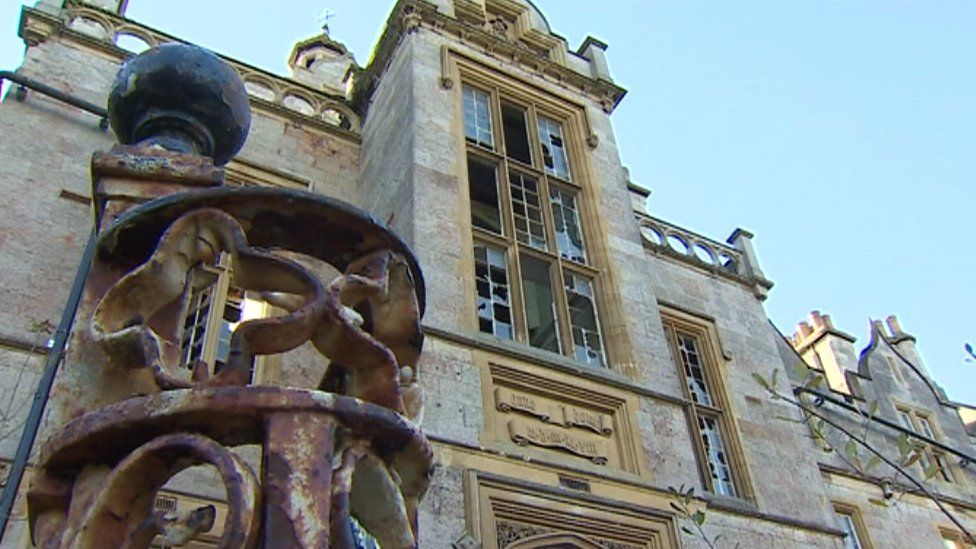 Listed buildings at the site of a derelict Victorian hospital are not "viable to save", a council boss says.
Director Graham Boase has spoken about the former North Wales Hospital in Denbigh after the county council acquired it following a long dispute.
It is hoped the site can be used for housing but much has become derelict since it closed in 1995.
Speaking at the site, Mr Boase said the big focus was on saving the main building.
Local construction firm Jones Bros is carrying out work to save buildings from any further damage before planning applications are drawn up.
Mr Boase described it as a beautiful building that people would want to visit after its restoration.
"In order to save the building, what we're going to have to do is have some new build around the back of the site, so that will generate jobs," he said.
"You are going to lose about 50% of the listed buildings on site. It's just simply not viable to save them all.
"The main building we want to save is the most historic building at the front."
The hospital was earmarked for closure in the 1960s but remained open for a further 30 years.
It was later sold to a private firm but plans to redevelop it for housing fell through and its condition began to deteriorate.
In 2011, Denbighshire council carried out £1m of emergency safety work, then two years later the authority voted to initiate a Compulsory Purchase Order (CPO), which its former owners failed to reverse in an appeal to the High Court.
Later that year the order was rubber-stamped by the Welsh Government.
And then earlier this month the council said all the legal obstacles had been overcome which meant it was now the official owner.