North Wales Growth Bid Deal funding shortfall 'abysmal'
By Brian Meechan
BBC Wales business correspondent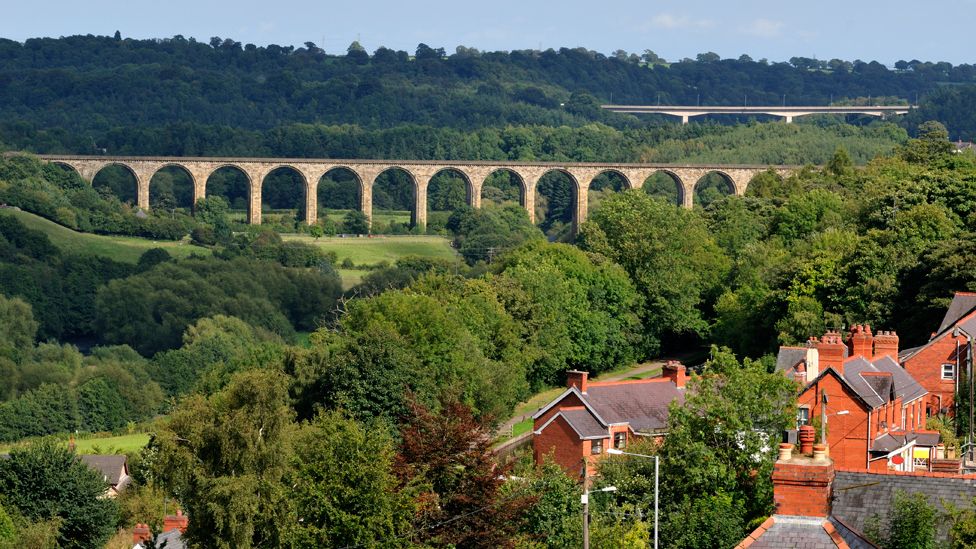 A business leader has called the funding for the North Wales Growth Bid Deal "abysmal" and claimed the region seemed to have been forgotten about.
The Budget earmarked £120m for the economic regeneration package but this was about £50m less than expected.
The UK Government said it was a "steadfast sign" of its ambition to boost growth and productivity.
But Askar Sheibani, chairman of the Deeside Business Forum, said it would leave people angry.
The UK government said the £120m would enable an agreement to be reached with local partners and the Welsh Government "in the not too distant future".
But Mr Sheibani said "We were expecting a lot more than that - £340m.
"We need a lot of money spent on infrastructure. North Wales is one of the worst places for digital infrastructure and we need substantial investment... in order to bring in quality businesses, that create high value and high skilled jobs."
Mr Sheibani, chief executive of IT and telecoms repair company Comtek Network Systems, added: "We have talented people but they seem to have forgotten about north Wales. It has an enormous amount of potential, we are next to two major airports, why they have missed this opportunity is just beyond me."
He said he doubted that the Welsh Government would have the money to make up the shortfall.
What is the North Wales Growth Deal?
It aims to create 5,500 jobs and bring £671m investment to the region.
A total of 16 projects planned including in low carbon and nuclear energy - including regeneration at Trawsfynydd; university research; better transport links; growing digital businesses; increasing skills and opportunities to keep more young people in the area.
It hoped to secure £335.5m split between the Welsh and UK governments, with £219m coming from universities and colleges and £109m upfront from businesses.
It is argued that the private sector would invest £3.1bn in the long-term as a direct result of the growth deal.
A final deal is expected to be in place later in 2019.
Finance Secretary Mark Drakeford said the funding announcement for the North Wales Growth Bid Deal was disappointing as it fell "some way short of what we and the people of north Wales have been expecting and working hard towards".
He said the Welsh Government had long championed the growth deal and had been "actively engaged" with the North Wales Economic Ambition Board, alongside the UK government to ensure it was right for people, communities and businesses.
"We remain fully committed to delivering this potentially transformative growth deal, and will continue to work to get the package and direction right for north Wales, agreeing heads of terms on a deal as soon as possible," Mr Drakeford added.
Mr Cairns told BBC Radio Wales there were some "exciting projects" on digital fibre and nuclear smart energy engineering and there was cross-party joint working going on.
The Welsh Secretary's spokeswoman later added: "This significant contribution is based on the merits of the overall proposition brought forward, value for money and affordability, recognising that the UK Government can only spend in areas that are reserved to Westminster.
"It also takes the UK Government's investment in Welsh city and growth deals to over £735m with discussions for a Mid Wales Growth Deal also fully underway."
She said they hoped it would "re-energise" the North Wales Growth Deal team to secure investment from all key partners.
Ben Francis, of the Federation of Small Business, welcomed the "vote of confidence" for the deal and said there was "now an urgent need to take this deal forward, to be signed by the partners involved so that it can deliver for the local economy".
The North Wales Economic Ambition Board said it had a "strong basis" on which to move forward and attract extra funding from the Welsh Government and additional sector programmes and finance streams.
"We are on track to create thousands of jobs and vastly improve infrastructure across all six counties under nine key programmes in a range of areas, from transport and adventure tourism to digital connectivity, smart energy and land and property," said a spokesman.
"We will now look to put a dedicated team in place focused on leading the priority projects to fruition, alongside our partners in local government, education and the private sector."
Ian Price, CBI Wales director, said: "While £120m is lower than some expected, this project promises to kick-start the region's economy but the devil is in the delivery and we now look to the region's local government to work proactively with the private sector to maximise the benefits of the deal."
Related Internet Links
The BBC is not responsible for the content of external sites.