Caldicot fan survives cardiac arrest after referee saves his life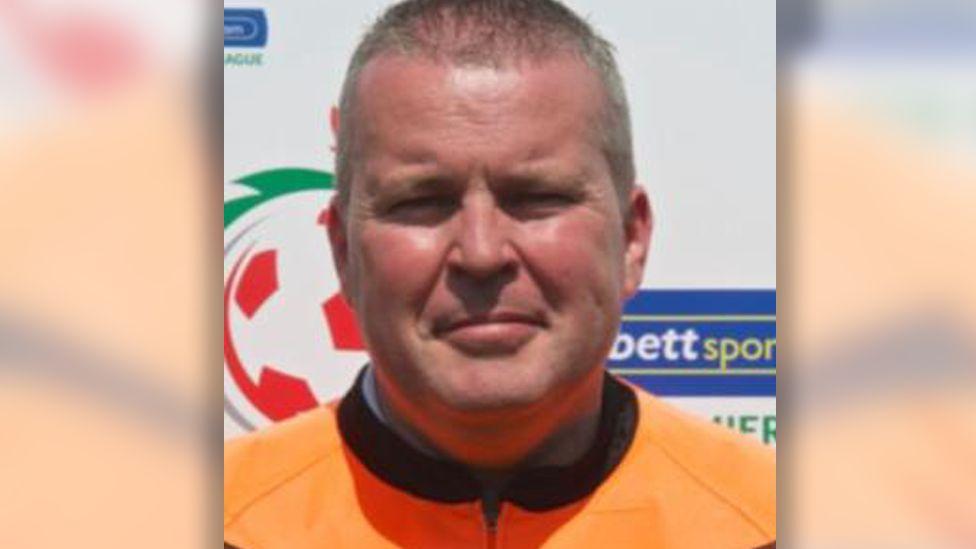 A football referee has called for all grounds to have defibrillators, after saving a fan's life at a match.
Mike Pedler had been refereeing a match between Caldicot Town Ladies Team and Dafen Ladies AFC on Sunday when a home fan suffered a cardiac arrest.
The former medic carried out CPR and the fan is now recovering but the referee said he had feared the worst.
The Football Association of Wales (FAW) said it aims for every club to have a defibrillator in the near future.
Mr Pedler, from Blackwood, recognised that the supporter was suffering a cardiac arrest immediately after working as a medic in the Army.
"I started CPR straight away. There was no response and I feared the worst," he said.
"We used the defib straight away. He began to move, but for the second time I couldn't feel a pulse.
"I carried on with CPR and thankfully the paramedics arrived and by then we had managed to revive him."
Caldicot Town FC have confirmed the supporter is recovering in hospital and is very grateful for the help he received.
Club chairman Wayne Jones said: "The defibrillator is available for the usage of the whole community in an emergency.
"I would encourage every club in Wales to invest in one."
A defibrillator gives electric shocks to the heart to help get it started again.
The FAW said: "At this moment in time, every Welsh Premier League club has a defibrillator at their ground, but there are a number of clubs and training facilities across Wales which have no defibrillator fitted."
Its long term plan is to provide "defibrillators, resources and training to every football club in Wales" and hopes its link up with charity Calon lan Cymru will help with this.
Related Internet Links
The BBC is not responsible for the content of external sites.