Jonathan Donne jailed for John 'Jack' Williams murder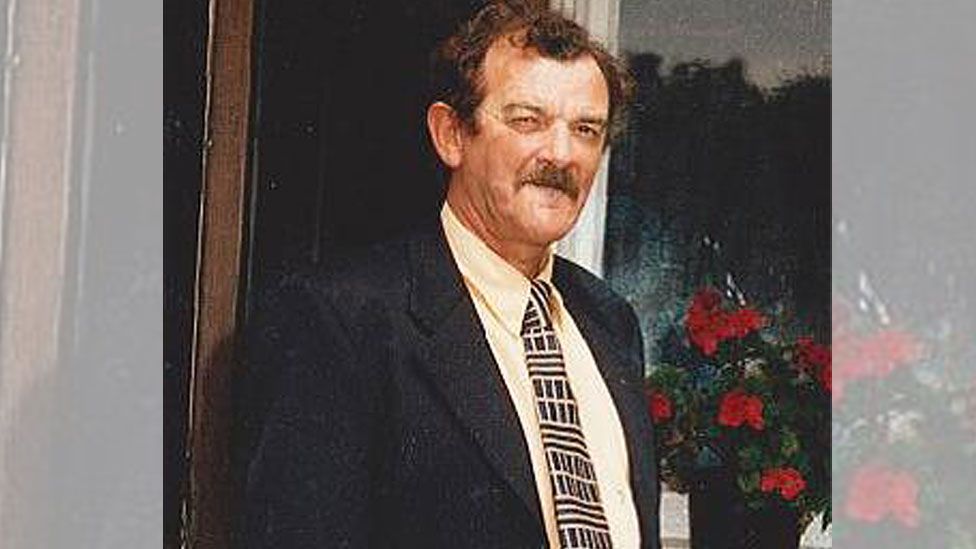 A convicted killer who murdered a 67-year-old after robbing him in his own home has been jailed for life.
Mr Williams was tied up and battered in the living room of his Swansea home in March as Donne thought he had a large quantity of drugs and money.
At Swansea Crown Court, Donne was told he must serve at least 31 years before he can be released from prison.
He was also given a 15-year sentence for robbery, which will be served concurrently to his life sentence.
Mr Justice Lewis said Donne punched Mr Williams in the head, tied him up then stamped on his back and throat in an attempt to get him to say where they money and drugs were hidden.
"You left him unconscious on the floor his hands still tied after blows that caused egregious injuries," he said.
Mr Williams suffered serious brain and head injuries and died "perhaps up to two hours later," Mr Justice Lewis added.
The victim had been growing and selling cannabis and Donne thought he would have drugs and cash he could steal.
Police found more than 60 cannabis plants in the loft and £10,000 in £20 notes in a locked tin in the kitchen when they searched the house.
Donne was refused parole several times from 2011 until his release in February 2017.
Christopher Clee QC, defending, said Donne served the better part of 10 years for manslaughter and was rightfully paroled, but said later that year "things went awry".
He said Donne acted out of frustration when Mr Williams refused to say where the money was hidden.
Mr Williams's family said: "This tragedy has left his family devastated and we will never fully get over the loss of our brother and friend."
A statement from Mr Williams's brother William said: "He stood up for me when I was bullied and was always my best friend."
The Parole Board said it would be meeting with other agencies involved in the management of Donne "to ensure lessons are learned to help to prevent further tragedies".
Speaking after the case, Det Ch Insp Darren George from South Wales Police said: "This was a brutal and callous attack on a defenceless elderly man in his own home."
Gemma Owens, 31, and Simon Cairns, 46, both from Swansea, were cleared of robbery, manslaughter and murder after standing trial with Donne.