Fly-tippers using Bonfire Night to dump dangerous waste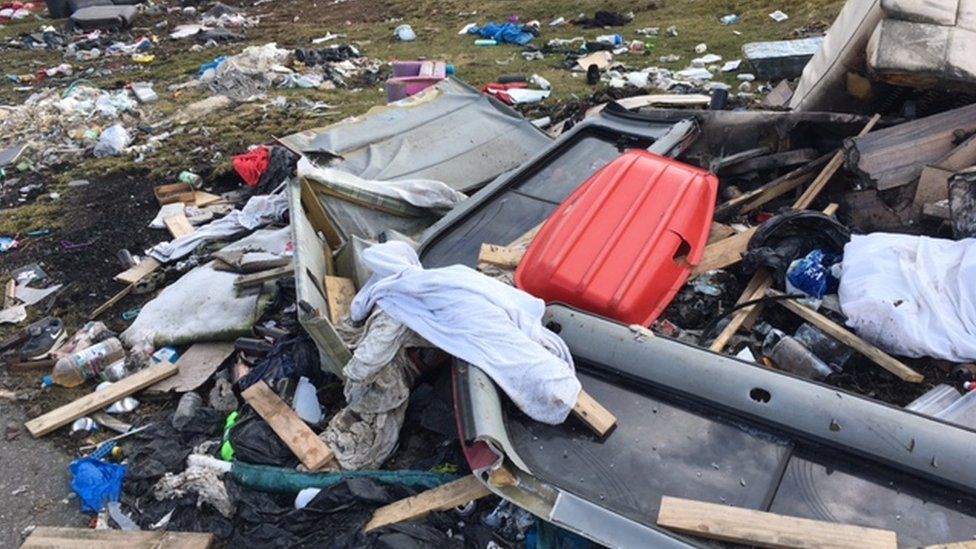 Fly-tippers are taking advantage of Guy Fawkes Night by dumping hazardous waste on to fires, according to South Wales Fire and Rescue Service.
Fire-fighters in Merthyr Tydfil say they frequently find "noxious material" on bonfires including paint, chemicals and plastics.
Crews even witnessed one fly-tipper trying to dump a van-load of rubbish.
Jeremy Norman, a community safety officer, said: "These materials give off fumes which are very dangerous."
He added: "There are definitely opportunists out there trying to get rid of materials that otherwise should be safely disposed of.
"Just the other day my colleague went to dismantle a bonfire. As he arrived, a van pulled up in front of the fire truck and the man was about to tip all sorts of things on there. As soon as he saw the fire truck he closed the doors and cleared off.
"Obviously this is a key time for us. There's increased activity with fireworks and people building fires.
"Unfortunately you get people who see an opportunity. Instead of going to the tip or disposing of stuff properly, they think, 'Let's throw it on the bonfire', but that effects the community when those gases are released.
"Instead of just wood, it's things like tyres, plastics, paints, chemicals, things that burn and give off noxious fumes which are very dangerous. You also get people pouring petrol and other highly flammable stuff.
"We want people to have a good time but to be safe. We don't want the community to suffer."
People who intend to build a bonfire are being urged to inform the fire service, make sure they are well away from houses and property and to have sand or water nearby in case of danger.
As well as tackling the fly-tipping menace, fire crews across Wales have also had to deal with anti-social incidents in the run up to the annual bonfire events that mark Guy Fawkes' failed Gun Powder Plot to blow-up Parliament in 1605.
Incidents have included fireworks being posted through a letterbox, and fireworks being thrown onto a bonfire.
Kasey, 16, from the Gurnos estate, Merthyr, is among a group of young people involved in a scheme at Merthyr fire station learning about the risks of anti-social behaviour around Bonfire Night.
"You've got a lot of young people around the estate burning themselves over stupid little fires, often because they are showing off in front of their friends," she said.
"You see people running around with fireworks in their hands or even on their heads."
Related Internet Links
The BBC is not responsible for the content of external sites.