Rhondda Cynon Taff soldier silhouettes damaged 'beyond repair'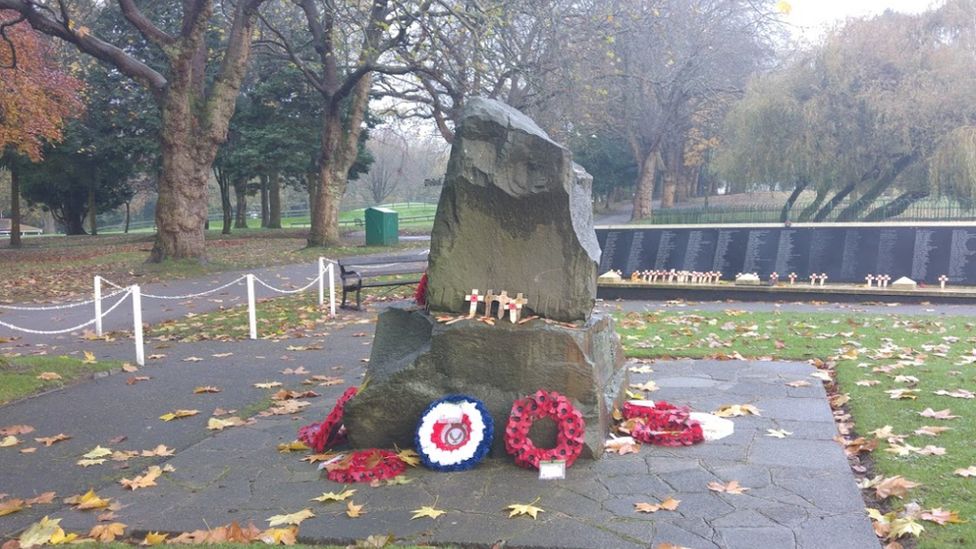 Vandals have damaged soldier silhouettes that stand in a Rhondda Cynon Taf park just days before Remembrance Day.
Rhondda Cynon Taf Council, which commissioned the installations to commemorate the Centenary of the end of World War 1, has now been forced to remove the memorials.
It says the silhouettes in Ynysangharad War Memorial Park are likely to be beyond repair.
South Wales Police have been informed.
The council hopes replacements can be borrowed from the Royal British Legion in time for a Remembrance Day Parade and Service on November 11 in the park.
The news comes just weeks after several of the silhouettes were first damaged by vandals. On that occasion the memorial installations were able to be repaired.
Councillor Maureen Webber said she was "shocked and upset".
"I find it impossible to believe that anyone does not know just how poignant and significant these silhouettes are," she said.
"People of all ages and walks of life have recently come to the park to create ceramic poppies that will form a cascade and this, as well as the silhouettes, will create the Walk of Remembrance in the park.
"That such selfish and disgraceful vandalism can take place on a war memorial at this time of year is beyond belief. We will work with the police to identify the offenders."