BA passengers in three-day Orlando to Gatwick journey 'hell'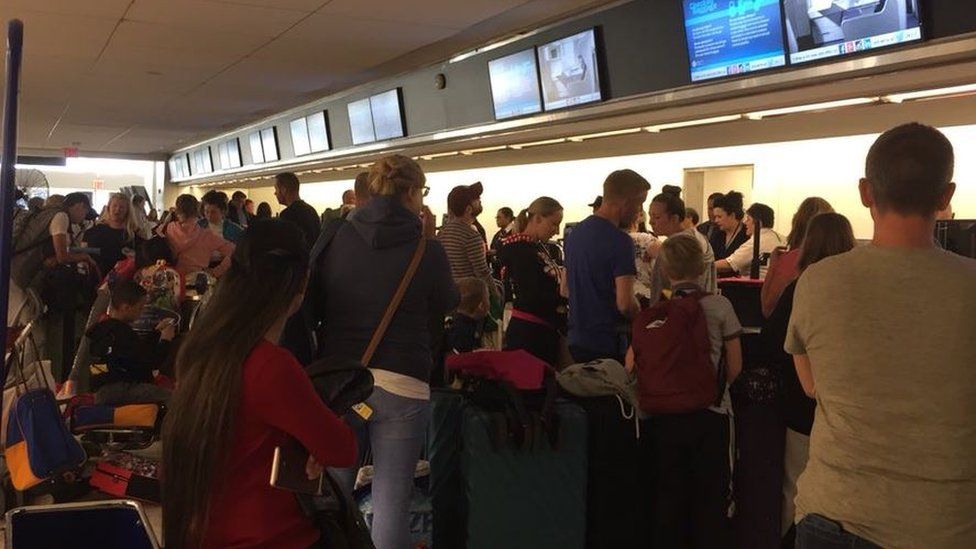 British Airways passengers who endured a 77-hour "journey from hell" back to London from Florida, have said they were treated "inhumanely".
Passengers have complained of sleeping on airport floors and holidaymakers crying on the "chaotic" journey home.
BA flight 2036 was supposed to take off from Orlando at 19:25 ET (00:25 GMT) on Thursday and arrive at Gatwick eight hours later - but it arrived in the UK on Sunday after going through New York.
BA has apologised to passengers.
The airline said it "appreciated that this was an exhausting and frustrating experience" for the more than 200 passengers on board and said sorry for the "long delay".
Passenger Sarah Wilson whose £11,000 "dream" family holiday to Disney World "turned into a nightmare" has accused BA of "failing their passengers when they needed help most".
"BA's customer service was disgusting, absolutely abhorrent," said the mother-of-four from Undy, Monmouthshire, whose flights to Florida alone cost more than £4,000.
"The passengers were treated inhumanely, all we wanted was some food and drink, somewhere to sleep and to be kept informed - and they failed on all counts no matter what they claim."
#BA2036 deplorable service. Cannot believe our children had to sleep on the floor of an airport terminal for five and a half hours whilst you advise that you are looking after us. pic.twitter.com/sPXUFnmZgX

— Rosie slater watts (@SlaterRosie) November 3, 2018
The flight was due to leave Orlando on Thursday evening but after passengers waited on the plane for four hours for a technical fault to be repaired they were forced to disembark and stay in a nearby hotel.
"Imagine 200 people turning up in the early hours to check in to a hotel," Ms Wilson said. "It was a chaos and there was not a BA representative in sight taking charge.
The 44-year-old said the coach back to Orlando Airport was delayed twice before eventually leaving at about 20:00 ET on Friday.
#BA2036 still sat here no apologies. Air stewardess walking around laughing my children having to sleep on a cold stone floor. No food on flights. Utter utter disgrace. Thanks BA for ruining the holiday of a life time #BAdontcare #ijustwanttogohome

— rachel jones (@boozyrac) November 3, 2018
After the flight left for Gatwick at 01:00 ET on Saturday, Ms Wilson said the flight was diverted to New York's JFK airport 40 minutes after take-off.
"The captain said over the tannoy, the original problem had come back," said Ms Wilson.
"They had to drop the landing gear, lose fuel to make the plane lighter and divert to New York - it was the roughest one-and-a-half hours on a flight I'd ever experienced, made worse as I suffer from travel sickness.
"Children were having panic attacks, the turbulence was awful and people were scared, tired and hungry.
Finally back at LGW after the worst 3 days. I can't think of strong enough words to describe the disgusting @British_Airways customer service we received. My daughter also had to spend her 2nd birthday in JFK airport. Exhausted and angry. #ba2036

— Lee Sullivan (@Lee_Sullivan85) November 4, 2018
"On arrival at JFK, first of all we had to wait until 06:00 ET for the BA staff to arrive and then told there was no food waiting and getting a hotel would be difficult because the New York Marathon was on and everywhere was fully booked.
"One mother asked where she could get formula for her seven-month-old baby and the reply was 'it would be difficult to find anywhere at this hour'. She was in tears.
"Children were sleeping on floors in JFK's Terminal 7 but my husband found a hotel in Queens for us to sleep for a few hours but we paid ourselves.
The passengers eventually left the US on Saturday evening and arrived back in London on Sunday morning.
"It was a horrendous experience but BA's handling is the issue" added Ms Wilson.
I cannot believe how inept and disorganized British Airways have been in this whole sorry affair. They have spoiled the whole holiday with their handling of the situation. #BA2036

— Lee Wilson (@leeson67) November 3, 2018
Imagine having a little daughter spending their birthday in a terminal,sat on a rock hard floor and not knowing when they're going to eat, sleep or have a safe place to stay. Put yourself in the footsteps of that family and think about what you are doing.#BA2036 @British_Airways

— Casey Wilson (@caseywilson98) November 3, 2018
"Unfortunate things happen but it's how you deal with a crisis that's important and BA didn't have a contingency plan.
"Their communication with the passengers - most of whom were beside themselves by the end - was non-existent.
"So much so they put on food for us eventually in the BA business lounge at JFK on Saturday evening but didn't tell anyone. We only found out by luck but most of the passengers didn't know.
"I'm glad to be home but to top it all, my suitcase is still in JFK. I admit I've had a bit of cry. There were a lot tears from passengers.
"It was the journey from hell when it was supposed to be a holiday on a lifetime that we'd saved up for years to go on."
Ceri Todd, from Swansea, who was travelling with two teenagers, said passengers had been "abandoned" by BA.
She added: "I think they fell down on duty of care for passengers. There was no leadership.
"It will be a long time before I go back to them."
British Airways apologised and confirmed its "aircraft diverted to New York on Saturday morning as a precaution, following a minor technical issue".
"We sent a relief aircraft out to New York on Saturday morning to get customers back to London Gatwick as quickly as possible.
"Customers were rebooked where possible and while there were limited hotel rooms available, our teams on the ground cared for customers in our first class lounge providing bedding, food and drinks to ensure they were comfortable during their stay."