Are these north Wales hills sitting on a gold mine?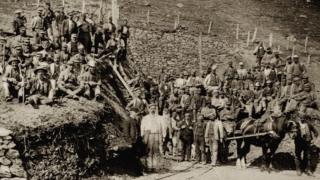 An old gold mine could be reopened as a new study suggests there's gold in them thar hills.
Experts think there's potential for a gold rush in north Wales as Alba Mineral Resources is carrying out research across a 20-mile (32km) area known as the Dolgellau gold belt in Gwynedd.
A survey has been conducted around the site of Clogau St David's gold mine at Bontddu, Dolgellau, which shut in 1989.
Boss George Frangeskides said the plan is to seek permission to open the mine.
The company has acquired a 90% stake in Gold Mines of Wales, which has permission from the Crown to prospect and mine in the area as they search for new sites.
It is not the only firm hoping to restart gold mining in north Wales.
Welsh gold jewellery firm Clogau, whose founders once owned Clogau St David's, bought the area's last gold mine, Gwynfynydd, in 2016, 17 years after it ceased production.
But managing director Ben Roberts admitted any plans for the former mine could take years to come to fruition.
The area was the focus of a gold rush more than 150 years ago, but records suggest gold mining goes back to Roman times.
There are about 300 old mine workings across the gold belt, according to Alba's technical director Howard Baker.
"We have just completed the first geochemical soil sampling programme over the [Clogau St David's] mine area," he said.
"We have identified the potential of new areas that warrant further exploration.
"The work we are doing is quite groundbreaking for the Dolgellau gold belt. No modern day exploration has taken place."
Sitting on a gold mine
As a boy, Ben Roberts and his siblings would accompany their father, Bill, into Clogau St David's, to learn about the family's gold mine.
Mr Roberts Sr, chairman of Clogau, bought the closed mine with a view to turning it into a tourist attraction.
But he turned to small scale mining when that fell through, producing Welsh gold the jewellery business still uses to this day.
"We are very keen to do the same with Gwynfynydd [mine]," said his son.
The area's gold mines shut when extraction cost more than the gold being produced.
Currently, the price of gold is trading about five times higher than it was 20 years ago and, on top of that, Welsh rose gold sells at a premium, according to Mr Frangeskides, making it an attractive prospect.
"This is a two-pronged process we are engaged in - one is trying to bring the Clogau gold mine... back into production.
"And, at the same time... we are looking at the regional gold exploration of the Dolgellau gold belt."
The next stage will be to submit an application to the planning authority, he said.