GP surgery system in Wales unsustainable, BMA says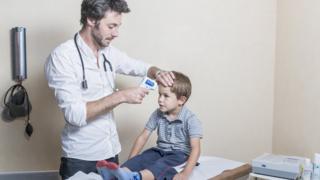 Struggling GP surgeries being directly managed by health boards is an "unsustainable" situation, the body representing doctors has said.
There were 30 managed practices in Wales between October 2015 and July 2018.
BMA Cymru and leading GP Charlotte Jones said this caused an average overspend of £100,000 per practice.
The Welsh Government said managed practices were not its preferred approach due to the high costs.
Dr Jones, chairwoman of the Welsh General Practitioners Committee (GPC), said general practice was "on the brink of an abyss" with practices serving 10% of the population at risk of closure.
She said this trend could be reversed if practices were run independently by contractors rather than being managed by boards, and shut practices could even reopen.
A Welsh Government spokesman said health board-managed practices were "necessary where GP partners cease to run practices... to ensure continuity of service for patients".
He said Wales was seeing a shift towards fewer, larger-sized GP practices "providing a greater range of health care locally".
A Freedom of Information request by the British Medical Association to Hywel Dda and Betsi Cadwaladr health boards - chosen because they have both directly managed practices for a sustained period of time - revealed one Denbighshire surgery, Healthy Prestatyn, reported a deficit of £600,000.
Betsi Cadwaladr said that surgery had, in fact, been used in the British Medical Journal as an example of how the future of primary care could be modelled.
A health board spokeswoman added that some financial aspects of managing practices had not been included in the figures as they were not available at the time - such as reduced prescribing costs and reimbursements for staff cover and building improvements.
"We continue to look at all areas of our operation to ensure we make appropriate savings whilst also ensuring patients in north Wales receive the highest quality care," she said, adding that where possible the health board would look at returning managed practices to independent contractor status.
It is in talks with a preferred provider for three practices in Wrexham and has recruited new GPs in Porthmadog and Criccieth.
Recruitment problems are a major factor in health boards taking over practices as newly-qualified doctors are often drawn to big cities or decide not to become GPs.
Dr Jones said the high cost of locum doctors and other health professionals to fill the gaps was resulting in deficits.
Salaried GPs earn between £58,787 and £88,710 in Wales - but the country's top-paid locum doctor earned £183,000 in 2015-16.
Hywel Dda said it was looking to return managed practices back to independent status, with the first due to complete next year. It has also proposed a locum cap to reduce costs.
Aneurin Bevan acknowledged the value of the independent contractor model, but it did not believe this alone was sufficient to address the challenge facing GP surgeries.
"One of the main challenges continues to be the availability of the medical workforce," a spokeswoman said, adding it was working closely with practices but some were likely to be managed short or long term, depending on circumstances.
Cwm Taf said its goal had always been to revert practices back to independent status, which it successfully did last month with two of its surgeries. It also supports mergers over seeing a practice shut.
Abertawe Bro Morgannwg said it was already concentrating its efforts on supporting independent contractor surgeries, and Powys said it wholeheartedly supported that model too.
Dr Jones said: "When we have health boards directly managing practices - that is, staffed with locum doctors and healthcare professionals, whether that's physiotherapists, pharmacists - that comes at a huge cost.
"I think health boards have realised it's an enormous task and might be keen to see them revert back into the previous system.
"There would be enormous benefits and the changes can be quite immediate."
Asked if communities which previously lost services could eventually have them back, Dr Jones said: "Hopefully, yes. It is something that's been shown to work... we could see a reversal of the current trend."
An auditor general report into Hywel Dda health board found long-standing recruitment difficulties and increased service demand.
Analysis - Owain Clarke, BBC Wales health correspondent
A generation of GPs are retiring.
Due to the heavy workload, many say they're glad to get out. Others are worried about their pensions.
Younger doctors who leave general practice to do other jobs or to have children can find it difficult to retrain and return. Others choose to move abroad.
Meanwhile, the traditional model - where a GP or a group of GPs own and run their own surgeries - is becoming more and more unattractive to those who don't want the burden of paperwork, or those who commit to working in one place or want to work more flexible hours.
Younger doctors may choose to stay near to where they trained at medical school - or are drawn to the big cities.
And it's claimed there's a poor perception about general practice as a career choice - and that it's not as popular as specialist medicine or hospital care.
None of these issues are specific to Wales, yet the effect here can be more pronounced, particularly when you consider Wales has a higher proportion of elderly people than many other parts of the UK, with many choosing to move to rural areas to retire - the very parts of Wales where the shortages are most acute.