Swansea water safety inadequate, says bereaved mother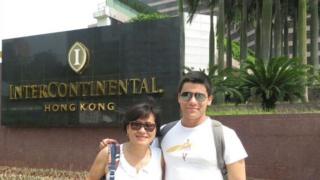 The mother of a medical student who died in the River Tawe says improvements to water safety are insufficient.
Alex Pavlou, 19, drowned after a night out with friends in Swansea in 2015.
A witness on a road bridge tried to help but there was no buoy nearby and a buoy on the riverbank was missing.
The council said it was working to prevent further tragedies with new safety measures and by warning drinkers to steer clear of water.
It announced changes to water safety earlier this year after an inquest into Mr Pavlou's death found the missing lifebuoy was a contributory factor in his death.
Changes include marking rescue equipment with GPS coordinates so emergency service responses can locate them quickly if needed, reassessing the placement of rescue aids and adding signs with a phone number people can call if they notice aids are missing or vandalised.
Mr Pavlou's mother Donnie Yuen, 56, said there had been some significant improvements but they did not go far enough.
"I think if there was a lifebelt on the bridge, Alexander would have [had] a chance," she said.
But the council said putting lifebuoys on road bridges could "further endanger a casualty in the water".
Ms Yuen also wants to see more ladders with interconnecting ropes in the water providing a place for people to cling to and more lifebuoys, including one on the road bridge where the witness first spotted her son in the water.
Ms Yuen said the first time she realised there was a problem was in the morning when she found her son had not returned home after his night out.
Later on, his brother discovered there was an ongoing search for a body in the river, and Ms Yuen told her other son: "Christopher, that's your brother."
The following day, police arrived at their home and said they had recovered her son's body.
"They asked me to sit down and they said they had found Alexander", Ms Yuen recalled.
"I remember at that time there were loads of people in the flat and everybody was just screaming and crying."
Speaking about her "very very happy" son, who volunteered with children with learning disabilities, Ms Yuen said: "He's unique... he would help other people.
"He's very special."
The inquest into Mr Pavlou's death heard there was strong evidence he was "very intoxicated" and had been been turned away from a nightclub because he was drunk earlier in the evening.
A number of people have been found dead in the city's marina over the years, and in 2015, 21-year-old Jordan Miers drowned in the river while under the influence of MDMA and alcohol
A spokesman for Swansea council offered their sympathy to Alex's family and friends, and said it took water safety "very seriously".
He added the council was always looking at ways to make Swansea safer, and was stepping up its #Don'tDrinkandDrown campaign leading up to the festive period.
He said installing grab chains for people in the water would be a "significant engineering challenge" but it was something it would consider.
The council is also looking at installing electronic sensors to equipment which would trigger an alarm if they are vandalised or damaged, he said, adding: "The issue of lifebelts on road bridges has been thoroughly examined, but as was explained at the inquest, such a move has the potential to further endanger a casualty in the water and anyone who is attempting to rescue them."