Pets found dead or alive to be checked for microchip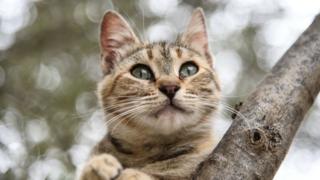 Animal lovers are "ecstatic" after a campaign resulted in councils agreeing to scan pets found by its workers.
A petition to the Welsh assembly called for it to be mandatory to check for microchips in all pets, dead or alive.
This resulted in councils voluntarily looking at practices and the six that previously did not have begun scanning or are looking at new policies.
Cats Matter said pet owners would be "extremely pleased" councils would be adopting scanning in their areas.
The petition said Anglesey, Blaenau Gwent, Cardiff, Gwynedd, Neath Port Talbot and Newport councils did not routinely scan animals - the rest did "when they deem the animal is in a state to do so".
Who does what?
Anglesey checks for microchips and contacts the database company to get in touch with the owner
Blaenau Gwent began collecting and scanning cats and dogs in July
Cardiff is working on a formal plan, but said many workers already followed the same process with cats as the official guidance for dogs - taking them to be scanned and owners contacted if possible
Gwynedd began scanning found pets about six months ago
Neath Port Talbot's trial in 2017 to scan all dead pets was extended later that year to cover out-of-hours
Newport has a "new procedure in place to ensure all chips are read" and owners contacted when possible
Susie Edwards, who lives in Cilfrew, Neath Port Talbot, never saw her cat Angel again after he vanished in 2014.
A neighbour said they had seen a cat in the road, but presumed it was dead so did not report it. The body had gone by the next day.
She said: "I still do not know what happened to Angel, who was presumably simply knocked down by a car who had driven off.
"Angel was microchipped - if he was taken to any local vets they would have been able to track me down and inform me. All of this would have meant that I had clarity about what happened."
A Cats Matter spokeswoman said: "We are ecstatic that Wales will be the first all-scanning nation in the world and this is certainly a record for others to aspire to."
RSPCA Cymru said: "It makes a hugely important statement about how we treat animals in society in Wales."