Wylfa Newydd power station impact 'not adequately examined'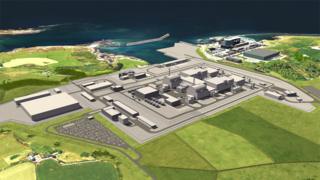 More work is needed to assess the impact a new £12bn nuclear power plant may have on public services in north Wales, Gwynedd Council has warned.
The effect of Wylfa Newydd on transport, housing, the jobs market and schools in the region has not been "adequately examined", officers claim.
However, the council says the project, in neighbouring Anglesey, offers positive economic and social benefits.
If approved, 9,000 construction workers could start arriving on site in 2020.
On Tuesday Gwynedd's ruling cabinet will be asked to approve the council's response to the crucial Development Consent Order application, which is being discussed by the Planning Inspectorate for England and Wales.
'Not confident'
The draft response says Gwynedd Council "would like to state support for the principle of the power station as it and its construction has the potential to bring positive economic and social benefits to Anglesey, Gwynedd and the wider area".
It added: "We are not confident that significant issues related to accommodation, transport, skills and employment, the Welsh language and public services have been adequately examined and addressed."
The report comes a week after the care scrutiny committee raised concerns over the potential impact on Gwynedd's private rental market if local people were priced out by better-paid incomers.
Horizon Nuclear Power has stated about 2,000 of the expected 9,000 construction staff will need to rent accommodation, but the company is confident there is sufficient capacity locally, according to the Local Democracy Reporting Service.
However, Gwynedd housing officers have already predicted the project will place more strain on the private rental market.
Fears about pressure on the emergency services are also highlighted, with officers keen to ensure Gwynedd does not suffer if resources are diverted to serve an increased population in Anglesey.