The Cardiff students fighting to clear a care worker's name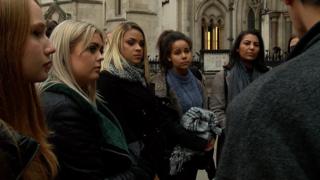 It is a dull autumn day in London and a group of law students are standing outside the Court of Appeal.
Their bus trip at the crack of dawn from Cardiff University to the court marks the end of six years of work to try and clear the name of Gareth Jones, who they believe was wrongfully convicted of sexually assaulting an elderly woman when he was working at a nursing home in Powys.
Every year the team at the Innocence Project are inundated with requests for help from people who are currently in prison who have always maintained their innocence and those who have served their time and are determined to clear their name.
The team is the only university based innocence project - teams which investigate an alleged miscarriage of justice - to have successfully overturned a conviction.
Former gang member Dwaine George was jailed for life in 2002 after teenager Daniel Dale was shot dead in Miles Platting, Manchester.
He always denied involvement and analysis of his case by the law students saw him cleared of murder in 2014 after a judge said his conviction was "no longer safe".
Now the project is hoping for a similar outcome from the case of Gareth Jones, from Trecastle, who was 22-years-old when he was convicted of sexually assaulting an elderly dementia patient while he was working at a care home in Powys.
Jones, who has learning difficulties, had denied the charge but was jailed for nine years in 2008 for what prosecutors described as a "vicious" sex attack at the care home near Brecon.
His sentence was later reduced on appeal by two years after it was deemed excessive by a judge.
Now, having served three and a half years in prison he is a free man, but remains on the sex offenders' register for life and is unable to live at home due to children in the house or move on with his life.
"Gareth was a really happy young man, he was always smiling, he was very socially chatty, but after he came out of prison, he was a completely different person," said Paula Morgan, who took the now 33-year-old in and acts as his carer.
"Since he has come out, his life hasn't been very pleasant... people wanting to attack him, not wanting him to be around him, the stigma is huge."
The Innocence Project team claim the medical evidence at his trial was weak, and he was not given the right support for his learning difficulties during the legal process, and no crime was committed.
Ms Morgan said the Innocence Project was the only chance to clear his name as his family could not afford the legal fees.
"Without them, there was no other option... this is his only chance, his whole future depends on it."
---
"People write to us all the time, asking for us to help them," said Prof Julie Price, who in 2005 founded the pro bono project, where legal advice is given for free, to give her students a chance to work on real-life cases beyond the theories in textbooks.
Places on the scheme are hard fought, every year about 100 students apply and have to go through weeks of training and a tough selection process before they can sit on the team and the real work begins, which they work on in their free time while studying for their degrees.
They work on the cases alongside legal professionals and academics, analysing documents and new evidence to see if a judgement may be eventually overturned. They are then taken on by barristers who work for free, where fees would normally rack-up legal fees heading into tens of thousands of pounds.
"You look in a criminal appeals textbook, there's a few sentences on if somebody is convicted and they feel they are wrongfully convicted they can appeal that conviction, but the reality is a million miles from that," added Prof Price.
"The number of people who successfully challenge a criminal conviction is tiny and there are so many barriers in the way, and the students very quickly realise that."
Figures show of the 24,249 applications to investigate suspected miscarriages of justices made since 1997, the Criminal Cases Review Commission has only referred 653 cases to the Court of Appeal - just 2.6% of cases.
---
What are Innocence Projects?
The first Innocence Project was founded at the Benjamin N. Cardozo School of Law at Yeshiva University, New York, in 1992 to help prisoners claiming wrongful conviction to challenge DNA evidence
A project typically sees students from a law department investigate an alleged miscarriage of justice and can see them working with other specialist departments at a university
The first UK project was set up at the University of Bristol in 2005, with the second one founded in Cardiff
Source: Innocence Project
---
Now for the students, past and present, professors and for their client it simply a matter of waiting to see what the judgement will be, after it was reserved.
But the pride the students have in being part of such a case is obvious to see, and even stepping inside the prestigious court room for the first time has got them thinking about their futures.
"You have the potential to make a real difference," says Elizabeth Johnson, a third year student who is proud to be part of the team.
"It makes my degree feel worthwhile, you can see the kind of results you can have, and that it can make a real impact on people's lives, rather than just the books."