Worst October on record for long A&E waits, figures show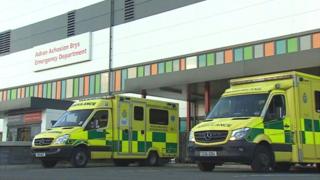 Figures for the number of patients waiting more than 12 hours at accident and emergency units show last month was the worst October on record.
Nearly 4,000 patients faced long waits, the sixth highest number for any month since records began in 2013.
This is despite fewer patients arriving at A&E departments in Wales than in October 2017.
Meanwhile, 80% were seen within four hours, compared to 80.3% in the previous month. The target is 95%.
The latest monthly performance figures from Welsh Government show improvements at the two worst performing A&E units for the second month in a row.
Both Wrexham Maelor and Glan Clwyd hospitals had posted record low figures for waiting times in August.
According to guidelines, no-one is supposed to wait more than 12 hours in emergency units and 95.6% of patients were seen within this target for the second month in a row.
But 3,961 patients waited longer across Wales - 157 more than in September and the most since March, after the peak of the winter pressures.
The greatest number of patients facing long waits was at Glan Clwyd, where 819 waited more than 12 hours in A&E.
In October, 54.1% of patients were seen at Wrexham Maelor within four hours. In August, less than half of patients were seen within the target time.
At Glan Clwyd, 58.5% of patients were seen within the four-hour target.
Wales aims to speed up cancer treatment
'Worst' A&E units show improvement
'Shocking statistics' for north Wales emergency units
The figures also show:
With the Welsh Ambulance Service, 74.7% of red calls to life-threatening cases arrived within eight minutes in October, an improvement on September and well above the 65% target
The percentage of patients waiting fewer than six months from referral by their doctor to the start of hospital treatment fell but the number waiting more than 36 weeks was less than last month
As for cancer patients waiting to start treatment, 84.2% with obvious symptoms started treatment within the target time - below the 95% target and down for the month. But 97.9% of patients diagnosed through the so-called non-urgent route started treatment within the target time, just under the target of 98%.