Wrexham gym 'not told' of Home Bargains expansion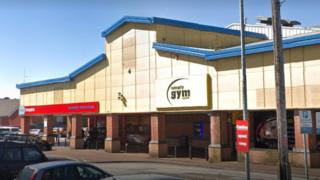 Directors of a gym company claim they have been given no notice about plans for a neighbouring discount store to take over its premises.
Andy Hastings of Simply Gym in Wrexham was "shocked" to learn of Home Bargains expansion through media reports.
He said the firm has 10 years left on its lease and called for the proposal in Holt Street to be dropped.
Planning documents indicate the gym has been informed. Home Bargains' owners TJ Morris has been asked to comment.
"We were very shocked and disappointed to hear of the planning application submission in this manner," Mr Hastings told the Local Democracy Reporting Service.
"There was no notification from the landlords, and there is certainly no agreement in place between us for the closure of the gym.
"Simply Gym signed a 15 year lease in 2013, meaning we will continue to operate until at least February 2028.
He said the gym had spent £100,000 on new equipment and the site had been converted for 24-hour use.
"We would like to assure our staff and our members that there are no plans to close or relocate," he added.
According to planning documents published on Wrexham council's website, the proposals aim "to allow the creation of a single retail unit at the site that will be occupied by an extended Home Bargains store".
TJ Morris wants more room to sell food and drink, and a transport assessment claims the closure of the gym will reduce traffic in the area.
The documents indicate the company's agent informed Simply Gym's Gloucester headquarters of the plan on 14 November.
Wrexham council will consider the proposals at a later date.