M4 crash: Drunk driver killed girlfriend in 'catastrophic' smash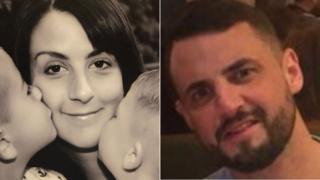 A drunk learner-driver killed himself and his new girlfriend in a "catastrophic" crash on the M4, an inquest has heard.
Timothy Grace, 31, lost control of the BMW X5 when driving at around 95mph and hit a tree near Port Talbot on 12 June.
He was taking Sarah-Jayne Thomas, 28, home after a date, South Wales Central Coroner's Court was told.
The coroner recorded the causes of death as road traffic collisions contributed to by alcohol.
Toxicology tests showed Mr Grace was estimated to be around twice the drink drive limit when he crashed.
The window cleaner and his partner - who between them had four children aged under 10 - had started seeing each other as she worked in the hairdressers below his flat in Treboeth, Swansea.
In the 90 minutes leading up to the crash, Mr Grace was seen ordering two bottles of 13% Chardonnay wine, which restaurant staff said he drank most of - while Miss Thomas drank cocktails.
The couple then headed to a casino and drank a martini cocktail and a whiskey cocktail. One bartender said the pair appeared drunk.
At around 14:10, friend Darren Davies said Mr Grace sounded intoxicated during a short phone call.
Less than an hour later the BMW, which Mr Grace had borrowed from a friend, was seen "going flat out", according to an eyewitness.
The car left the carriageway between junctions 37 and 38 where it was seen going towards the central reservation, veering across three lanes and then skidding five-and-half metres up an embankment where it hit a tree.
South Wales Police collisions investigator PC Carlos Vaquerizo said it was "probably the most catastrophic" crash he had seen.
Miss Thomas, of Penlan, Swansea, died at the scene and Mr Grace was airlifted to hospital with severe brain injuries. He died the following day.
There were no mechanical faults with the car, no defects on the road and the weather was "fine and clear" according to the police. It was discovered after the crash that Mr Grace only had a provisional licence.
Mr Grace had also been taking anti-depressants and had small traces of diazepam in his blood which, when combined with alcohol, could have affected his driving.
Due to the number of blood transfusions he underwent it was impossible to determine how much alcohol was in his system but pathologists back-calculated he was twice the drinking and driving limit, the court was told.
South Wales Police family liaison officer Alan Hughes said the deaths had devastated the families of Mr Grace and Miss Thomas.
Speaking following the conclusion of the inquest, he added: "This tragic case once again shows that drinking and driving do not mix.
"Our message is simple and clear - don't take the risk. We are keen to get this message across, especially with the festive season approaching."