Wylfa Newydd tunnel test gives 'unique' geology study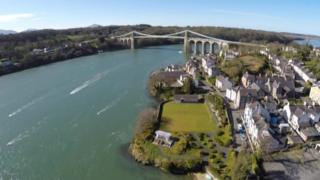 Geologists are enjoying the chance to study ancient rock on the bed of the Menai Straits as the National Grid contemplates building a new tunnel.
The new tunnel would see cables laid to carry energy from the Wylfa Newydd nuclear plant, which could be opened in the mid-2020s, to the mainland.
While the National Grid is hoping to build a tunnel, geologists will be able to study 300 million-year-old rock.
Scientists have called it a "unique opportunity" for the study of the area.
Mike Roberts, a geological oceanographer at Bangor University, said studying the rock samples would give students the chance to "look at samples we would never normally see" because getting hold of them is "very expensive and time consuming".
Drilling by National Grid has gone 50m into the sea bed and seen samples of rock brought up from under the straits.
Geologists believe it will be able to tell a story of the movement of land which was once south of the equator.
It has been suggested some of the cables from Wylfa Newydd on Anglesey to the mainland UK could be put on the proposed third Menai Bridge crossing.
But Aled Rowlands of the National Grid said: "As things stand right now, the only way we can be sure to connect Wylfa Newydd into the electrical transmission system and to the people and businesses that need it is to develop a tunnel."