Police treating St Mellons body discovery as murder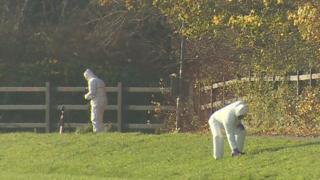 Police have launched a murder investigation after a man's body was found in woodland in a suburb of Cardiff.
Officers were called to the area near Brookfield Drive in St Mellons at about 07:15 GMT.
It is believed the deceased is a 32-year-old from Cardiff.
Detectives are carrying out house-to-house inquiries and scenes of crime officers are conducting forensic examinations of the woodland.
Residents said they were shocked by the news.
Bonita Summerhayes said she understood refuse collectors made the discovery near her home in Brookfield Drive.
"Around 06:45 this morning I woke up because the bin men were parked up outside the house and I wondered why they had been there so long. Then I saw all the police." she said.
"It's a real shock," said John Griffiths, 83, of nearby Trowbridge.
"A group of us often take the dogs for a walk through those woods, it's usually so peaceful."
South Wales Police have said the incident is not connected to their ongoing investigation in the Llanedeyrn area of the city into the disappearance of an Algerian man, Mohamed Megherbi, last seen in early October.
Superintendent Jo Maal, head of operations in Cardiff, said: "We appreciate having two murder investigations in such close proximity might be a concern particularly for communities in the east of Cardiff.
"We would like to reassure the public that detectives are working hard to establish the circumstances leading to today's incident and extra patrols by our neighbourhood teams are continuing to reassure the public."