Hermon chip shop death: Man arrested on suspicion of murder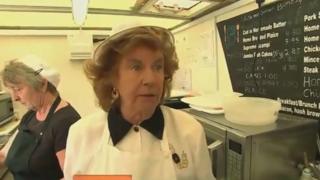 A 70-year-old man has been arrested on suspicion of murder following the death of a chip shop owner.
Mavis Bran, 69, who ran the takeaway on land near her house in Hermon, about seven miles north of Carmarthen, in Carmarthenshire, died in October.
She had been severely burned in the chip shop six days earlier.
The man was arrested at the time on suspicion of assault and bailed but has now been re-arrested on suspicion of murder and is in police custody.
Following her death, Councillor Irfon Jones said Mrs Bran - who had run several local businesses - was a "great loss" to the area.
Neighbours also paid tribute, with Bronwen Evans calling her "a mothering figure".
Veronica and Bill Gower, who lived next door to Mrs Bran for 12 years, said she was a "very kind" woman who had always dreamed of running her own chip shop.
"She was a brilliant neighbour to us. Anything you wanted she'd come and do or help," Ms Gower said.