Wrexham rape accused admits having sex with girls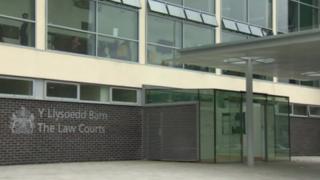 A man accused of rape and trafficking for sexual exploitation has told a jury he had no reason to believe one of his alleged victims was aged under 16.
John Delaney, 33, told Mold Crown Court he had sex with the two girls, but one said she was 19 and the other was aged 17.
Mr Delaney, of Wrexham, denies rape, sex trafficking and sexual assault.
One of three other defendants was found not guilty by jurors on Wednesday under direction from the judge.
The two-week trial has previously heard two 15-year-old girls were allegedly picked up from a children's home near Wrexham, taken to hotels for sex and given alcohol between December 2011 and April 2012.
Mr Delaney told the court he and a co-accused, John Purcell, 31, both from the travelling community, first met one of the teenagers when she flagged down their van and asked for a lift.
She told them she was from a traveller family and had moved to Wrexham with her parents, the jury heard.
She also said she was 19 and wanted to go with them to a hotel for a drink, Mr Delaney said.
'Happy' mood
They went to a hotel in Chester where, he said, she had sex, first with Mr Purcell and then with him.
Asked by his barrister how her mood had been, he said "happy".
On another occasion, he said he went with Mr Purcell, the alleged victim and another girl to a hotel in Halkyn, Flintshire, where again, sex took place.
He also denied knowing either of the girls lived in a children's home, describing how, on two occasions, they had dropped them off outside a row of shops at their request.
Mr Delaney faces four counts of rape of a girl under 16, four counts of trafficking women within the UK for sexual exploitation, the sexual assault of a girl aged under 16 years and arranging the commission of a child sex offence.
Mr Purcell, of Ellesmere Port, is charged with three counts of rape, four counts of trafficking and one of arranging a child sex offence.
Todd Wickens, 28, from Wrexham, is accused of two charges of raping a girl aged under 16 years and one charge of trafficking a female for sexual exploitation.
On Wednesday, John McGrath, 27, also from Wrexham, was found not guilty of rape by jurors.
The trial continues.