Children's commissioner in home education 'war of attrition'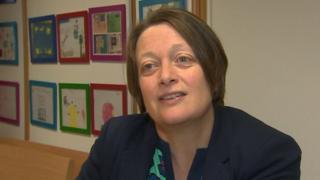 Securing the rights of home-educated children has felt like "a bit of a war of attrition" with Welsh ministers, the children's commissioner has said.
A consultation on requiring councils to create a database of home-educated children is due to start in the spring.
Sally Holland told AMs she was worried the new rules would not ensure all children were "met and seen" to check they were having a suitable education.
Ministers said they were "committed to protecting all children's rights".
Ms Holland and the welfare charity NSPCC Cymru have previously called for a compulsory register of home-educated children after Dylan Seabridge - a home-educated eight-year-old - died of scurvy in Pembrokeshire in 2011.
The inquest into his death heard that he had no contact with the authorities in the seven years before he died.
The government's proposals do not compel parents to register children who are not in school, but councils will need to hold a database of names.
The commissioner told the assembly's children's committee that she had written to the first minister seeking written confirmation of "assurance" he had given her during a recent meeting about the proposals.
In the letter to Mr Jones, she also wrote: "I am concerned that your government's response to high-profile, tragic cases such as that of Dylan Seabridge has been slower than I and others would have expected."
AMs asked whether she was disappointed to have received a response to the letter from Education Secretary Kirsty Williams rather than the first minister, Ms Holland replied that she had "expected" a response from Carwyn Jones.
She said the issue was one that had proved "a really difficult one to reach clarity on", in contrast to other discussions with ministers.
A Welsh Government spokesman said correspondence sent to Welsh ministers was usually dealt with by the "portfolio lead" so it was transferred to the education secretary to respond.
The spokesman added: "We are absolutely committed to protecting all children's rights, and are planning to engage with home educated children and their families about our plans to ensure their voices are heard."