Welsh firm Magstim in £2m trial to tackle depression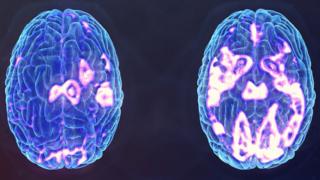 A £2m NHS trial to treat depression is underway - using magnetic pulse technology pioneered in Wales.
Carmarthenshire medical tech firm Magstim makes devices that deliver 'transcranial magnetic stimulation' (TMS) to brain cells.
The Whitland HQ has recently won a contract in the United States to help treat major depressive disorder in former soldiers.
Four English health trusts are trialling the system with 400 patients.
The treatment has been accredited by the National Institute for Care and Health Excellence (Nice) and is offered by some private clinics, but is not widely available to patients through the NHS.
If the two-year study is successful the company hopes the system can be developed to treat more NHS patients.
Magstim claims TMS therapy has few of the known side effects that can be associated with antidepressant medication or invasive treatments for depression.
The firm's chief technical officer Dr Michael Polson said it has been found to work for about two thirds of patients, but health boards may have been put off buying the machinery because of the cost.
"We would love to have a centre in Wales," he said.
"It's a false economy that so few places in the UK offer this treatment, in terms of the benefit that it can bring to the wider community."
A range of brain stimulation therapies exist for treating mental illness.
The most commonly used is electroconvulsive therapy (ECT), which can cause side effects such as memory loss. Also, people who receive ECT must be anesthetised to receive the treatment.
The current site employs more than 90 people and was opened by First Minister Carwyn Jones in November 2016, with a Welsh Government funding package of £2.7m.
At the time, the first minister said: "Magstim embodies our vision for the Welsh life sciences sector.
"The products manufactured here have the potential to revolutionise treatments and improve the lives of millions of people across the globe with brain disorders."