Two prisoners found dead at Parc Prison, Bridgend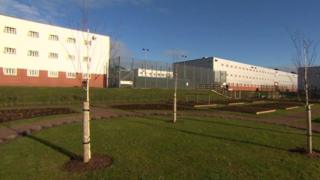 Two inmates have died at HMP Parc Prison in the past week, officials have confirmed.
The deaths occurred on separate days; the first on 18 November and the second on 22 November.
The prison's director Janet Wallsgrove said an independent investigation was now under way.
Circumstances surrounding the deaths and the identities of the dead have not been disclosed by G4S which runs the facility near Bridgend.
The all-male HMP Parc houses convicted prisoners, defendants on remand and has a separate Young Offenders Institution (YOI).
Earlier this month its was revealed that Parc's YOI had the highest rate of self-harm among youth jails in Wales and England.
G4S said the next of kin of both inmates had been informed.