Geoffrey Bran in court over wife's Hermon chip shop murder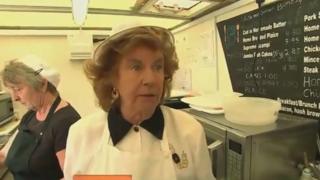 A man has appeared in court charged with the murder of his wife - a chip shop owner who died after suffering severe burns.
Geoffrey Bran, 70, appeared at Llanelli Magistrates' Court on Friday, accused of killing Mavis Bran, 69.
Mrs Bran, who ran the takeaway on land near her home in Hermon, Carmarthenshire, died on 29 October, six days after being injured.
No plea was entered and Mr Bran was remanded in custody.
Mr Bran, who was originally arrested on suspicion of assault and re-arrested on suspicion of murder on Thursday, is due to appear at crown court on Monday morning.
His wife suffered the burns at about 13:30 on 23 October and was transferred to Morriston Hospital in Swansea, where she died.
Speaking after her death, neighbours Veronica and Bill Gower, who lived next door to Mrs Bran for 12 years, said she was "very kind" and always dreamed of running her own chip shop.
"She was a brilliant neighbour to us. Anything you wanted she'd come and do or help," Ms Gower said.
Another neighbour, Bronwen Evans, said Mrs Bran had been helping her to recover at home from an operation, bringing her fish and chips to her door.
"She was a wonderful woman, that's all you can say," she said.