Domestic abuse: 'My ex left me unable to trust myself'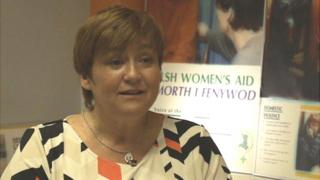 Since her abusive relationship ended, Karen Burchell says she finds it difficult to trust her own judgement.
"When he left he took all my confidence," she said. "I suddenly wasn't sure what I was allowed to do."
She said her partner gradually controlled everything, from her finances to friends.
Now the charity she turned to, Threshold Domestic Abuse Services in Llanelli., is to receive £1.5m EU and Welsh Government funding.
The help Ms Burchell received after leaving her relationship made her realise she was not alone in how she had been made to feel.
"It's not just about trusting other people, it's trusting myself," she said.
She said her partner was not violent but over the course of their relationship he gradually controlled everything.
"My friends had noticed that I had lost confidence in my own ability to do things," she said, explaining that a trip to the supermarket could leave her paralysed, doubting which toilet roll or squash she should buy to keep her partner happy.
When the relationship ended, with no financial support and no means of supporting herself, she turned to Threshold.
In the last two years she has done a number of courses with the charity.
"By meeting other people and sharing your experiences with them, you know you're not alone," she said.
"I've been volunteering a couple of hours a week and it really makes me feel worthy.
"It's so nice to be able to say 'I understand', because that's what a lot of it is - people don't actually understand how you can let this happen to yourself."
The courses run by the charity are now to be rolled out further to working women, with £1.2m of EU money, and £300,000 match funding from the Welsh Government.
"We already had funding for courses and employability skills for women that were unemployed and economically inactive," explained Kim Howells, head of business development and education at Threshold.
"But we found more and more women were coming to us who were working, but we couldn't support that.
"This funding will give women who are working, or on zero hour contracts the opportunity to access courses from entry level right up to level five."
'Relationship inequality'
The funding was announced by Finance Secretary Mark Drakeford and Leader of the House Julie James, to coincide with White Ribbon Day, the campaign to stop domestic violence against women.
The project will be run by the Llanelli-based charity over the next three years.
Ms James said: "We know that gender inequality and inequality in a relationship drives a lot of this behaviour.
"We know where women are more economically independent they don't have the same sort of problems, so it's very important to make sure that women take their proper place in the economy of Wales and drive that equality forward."