Pwllheli marina sale considered to boost future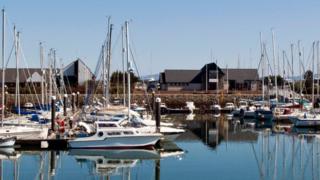 A council-run marina could be sold off or leased to private operators in a bid to improve its day-to-day management.
Lack of investment and dwindling numbers of berth holders at Pwllheli marina have prompted a review of its future by Gwynedd council.
It raises £400,000 a year for the authority but costs £200,000 a year to maintain, with silt a major concern.
Councillor Freya Bentham claimed the council "just doesn't have the experience to run a marina".
Gwynedd's economy scrutiny committee decided on Thursday to order studies looking at options for the future, including a joint venture or an arm's length company owned by the council.
'Mountain of problems'
Other marinas in north Wales, including Holyhead and Conwy, are already run privately.
Developed during the 1990s with European funding, Pwllheli marina offers more than 400 pontoon moorings.
But most of the facilities are more than 20 years old and in need of refurbishment, according to the Local Democracy Reporting Service.
Figures released in March found around a quarter of the available berths had not been taken up for 2018.
A recent questionnaire found that many former berth holders had sold their boats due to high maintenance costs, while others preferred to keep their vessels on dry land.
Councillor Alwyn Gruffydd told the committee there had been "no real investment" in the marina in recent years, and the harbour would need dredging "no matter who's running it".
"We're facing a mountain of problems to overcome," he said.
Another member, Huw Wyn Jones, said the economic effect on Pwllheli would be "disastrous" if the marina closed.
He suggested the council re-invested its income from the marina to "bring it back up to scratch".
However, council officers warned that such a move would mean having to cut services if that money did not go back to the authority.