Sword-wielding Newport 'knight' avoids jail term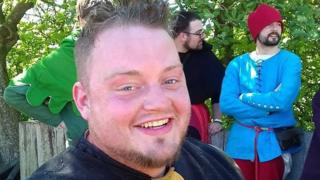 A medieval combat enthusiast who wielded a 14th Century replica sword to scare off yobs has been spared jail.
Alun Powell, 31, of Maindee, Newport, drew the weapon outside his home after a gang threatened his elderly father.
At Newport Crown Court, Powell was convicted of three counts of possessing a blade in public and previously warned he faced a custodial term.
But a judge sentenced him to a 12-month community order and ordered him to carry out 150 hours of unpaid work.
Powell also brandished an axe and knuckleduster, used in his hobby of dressing as a knight in battle re-enactments, during the row, the court heard.
He was cleared of assault and threatening a person with a blade.
The confrontation broke out in Essex Street, Newport, on 29 March when Powell was threatened by the group and saw they had a knife in a car, the court heard.
Powell, who had represented Wales at the medieval sport's equivalent of a World Cup, was accused of taking up "a fighting stance" with the 3ft sword.
Prosecutor Nuhu Gobir said: "The matter was triggered by anti-social problems the defendant has been having in the neighbourhood.
"He was clearly angry - instead of calling police he grabbed a sword and an axe - they were frightening looking weapons.
"He was in a rage and wanted to put the fear of god into them...
"They saw the weapons and got so frightened that they left as quickly as possible."
'Acted in self-defence'
Jenny Yeo, defending, said father-of-four-Powell had a "real passion" for medieval combat but this was not used in any aggressive purpose beyond the sport.
She added: "He was fearful what might happen and he acted out of self-defence."
Judge Christopher Vosper told Powell: "I accept you saw a knife in the car and a threat was made to your father.
"You took the weapons from the boot of your car but did not intend to use them to cause injury.
"You have no previous convictions, you have a full-time job and care for your father - I do not deem an immediate custodial sentence appropriate."