'Extreme right wing' graffiti found at Swansea University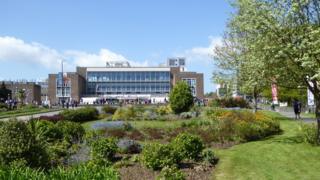 Police are investigating after "extreme right wing" graffiti was found in the grounds of a university in Wales.
Inquiries are ongoing after the discovery at Swansea University, South Wales Police confirmed.
The university's director of student services, Kevin Child said if identified as university members the culprits would be dealt with "appropriately and robustly".
The discovery of the graffiti was reported on November 14.
"We have a zero tolerance policy against all forms of racially motivated abuse and harassment," said Mr Child.
"All staff and students have been made aware of the help and support available to them through teams within the university if they experience hate crime."