Trains in Wales out of action because of bad weather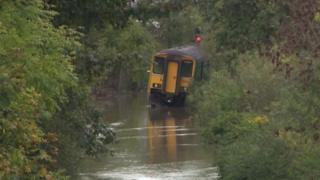 The effect of storms on ageing trains means an "unprecedented" number are out of action, with services set to be cancelled for up to three weeks.
A third of the fleet of 127 are damaged which means many will not run or be replaced by buses from Monday.
Transport for Wales (TfW) blamed damage to wheels caused by the seasonal conditions and said engineers were working round the clock.
There will also be fewer trains into Cardiff for Saturday's rugby match.
About 70,000 people are expected at the Principality Stadium for Wales v South Africa, with travellers warned there will be bus replacement services in some areas.
Looking ahead, a spokesman said priority would go to to services in areas "of greatest need".
"The scale of the situation means that we do not expect to be able to return to the normal level of service for a further two to three weeks," said TfW's Colin Lea.
Its website lists the cancellations which includes some trains between Aberystwyth and Shrewsbury, Llandudno Junction and Chester and Carmarthen and Llandovery, while valleys trains into Cardiff will be reduced.
The body took over the running of trains in Wales with new franchisee KeolisAmey from long-term contract holder Arriva Trains Wales in October.
While TfW has promised to transform rail travel, it has inherited an ageing fleet, with Arriva hit with regular complaints about overcrowding and late-running services.
"Safety is our top priority and many of our trains are too damaged to run," Mr Lea said.
"This means we have around 20 less trains available to us than normal.
"Progress is being made and we have sent trains away to other parts of the UK for repair, plus running our depot repair equipment around the clock with staff working overtime through the night."
He blamed equipment inherited which is 33 years old, and "not as effective as more modern kit".
It follows TfW and Network Rail taking out full page ads in the Western Mail, South Wales Echo and Daily Post on Tuesday apologising to passengers.