Wrexham council criticised over Welsh sign errors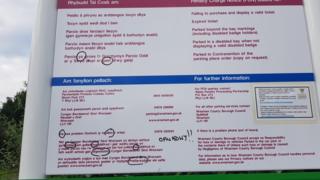 Welsh spelling mistakes on public signs have landed Wrexham council in trouble with the language commissioner.
The authority has also been warned to ensure Welsh is not treated less favourably than English on its notices.
It comes after parking information at country parks had to be changed when a member of the public highlighted Welsh errors by taking a marker pen to a sign.
The council said it was committed to the Welsh language and its promotion.
Welsh Language Commissioner Meri Huws stepped in after 14 complaints were made to her office, according to the Local Democracy Reporting Service.
Concerns were raised over signs which were in English only on the doors of the former People's Market, and Welsh text being displayed beneath English on a sign under a Christmas tree in Wrexham in 2016.
'No English mistakes'
Ms Huws has made several recommendations to the council and has the power to take further action if it does not comply.
In her report, Ms Huws said: "Whilst I acknowledge that mistakes can happen from time to time when dealing with text on a sign, it appears that where there are mistakes on Welsh versions, there are no mistakes on English versions."
A report to Wrexham council said action was being taken, although five of the complaints were not considered valid while the majority of the others related to temporary signs.
Councillor Hugh Jones - lead member for communities, partnerships, public protection and community safety - said all new signs must be submitted for approval by specialists before they are erected and departments must keep records of new signage and their location for monitoring purposes.