Dental bill confusion in Wales hits benefit claimants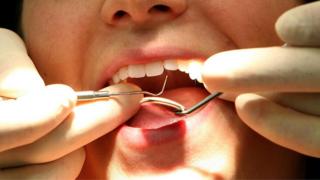 Benefits claimants are being put off going to see a dentist due to confusion over what free treatment is available, a patient watchdog has said.
Some patients have even faced £100 fines after wrongly filling in claim forms - only to be told later that they were not eligible.
Community Health Councils (CHCs) in Wales said the system needs to change.
The Welsh Government said it was considering simplifying the process.
The CHCs said the current dental benefit regime is too complex, with only certain types of claimants eligible for help to meet the costs of NHS dental treatment.
It is also up to the patient to make sure they get their claim right - or face a fine of five-times the treatment cost, up to £100 - plus repaying the original dental bill.
The CHCs told BBC Wales' Sunday Politics programme that "over recent months we have heard from a number of people who have found themselves with significant fines because they mistakenly believed that they were entitled to free treatment".
"These fines, often levied at people on low income, cause significant anxiety and can lead people who are unsure of their status to think twice about accessing treatment," it said.
'I felt like a criminal'
Lawrence Thomas from Llanrumney in Cardiff thought he was entitled to receive help with the cost of his treatment for a filling two years ago, as he was on Employment Support Allowance (ESA).
He said, at the time he submitted his claim, being only just out of work and new to the system, he did not realise there were two types of ESA, but only one entitled people to support.
Months later, he was fined £100 and was asked to pay the original treatment costs.
"I felt like a criminal," he said. "It was a genuine mistake."
He successfully appealed the fine and had to pay the original cost of the treatment, but he has not been back to the dentist since.
Benefits eligibility checks are administered by the NHS Business Services Authority, a cross-border organisation.
This is on behalf of the Welsh Government, who is responsible for the patient charges policy in Wales.
The government said it and the authority wanted to ensure the eligibility checking process was applied fairly and proportionately.
"We are also in discussion on how the system can be further simplified and whether any additional measures can be put in place to further protect vulnerable individuals when assessing exemptions and deciding whether to issue a penalty notice," it said.
Sunday Politics Wales is on BBC One Wales from 11:15 GMT on 25 November, or you can watch again on the BBC iPlayer.