Farm subsidy change delayed until 2021 after objections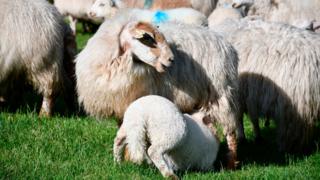 Farmers have been told that their main cash subsidy will stay in place for an extra year.
The payments in their current form were due to be phased out from 2020, as the UK leaves the EU.
But farming unions had reacted angrily, claiming the move could decimate the industry.
Rural Affairs Secretary Lesley Griffiths said the extension would ensure farms had enough time to prepare and adapt to a new approach.
She also claimed that Theresa May's Brexit deal could be "the best deal we're going to get".
Transition period
In a speech at the annual Royal Welsh Winter Fair in Builth Wells, the Welsh Government cabinet minister said existing subsidy schemes will not be replaced until new ones are ready.
It follows "an overwhelming response" to a public consultation about changing the way farming and the countryside is funded after Brexit.
"I realise this signals big change for the sector at an uncertain time," Ms Griffiths said.
"The transition period is vitally important and is why I am today announcing the Basic Payment Scheme (BPS) will remain unchanged for a further year in 2020, to provide certainty and help farmers transition smoothly to a new Land Management Programme."
EU subsidies - amounting to around £350m a year - make up more than 80% of farm incomes in Wales on average.
The Welsh Government is proposing two new funding schemes to replace the payments from Brussels.
One would be geared around economic resilience, offering business grants.
The other would pay farmers and land managers for so-called "public goods", like work to help the environment and protect Wales' scenery.
But it means an end to the direct BPS handouts, which most farms are given based on how much land they have.
What are the new payments?
An economic resilience scheme will target investment to increase competitiveness and make improvements in productivity for food production. This will include support for finding new markets, innovation and diversification.
The public goods scheme will provide money for farmers to address challenges like climate change mitigation, flood risk, habitat loss, poor air and water quality.
The ambition is to have the new schemes fully in place by 2025.
Ms Griffiths has argued they make farms uncompetitive, while farming leaders have claimed scrapping them could be disastrous.
In a joint letter to assembly members, NFU Cymru and the British Meat Processing Association warned of big consequences for family farms, the processing sector and rural communities in general.
"The industry is presently facing huge uncertainty and as such we would urge Government to pause and carry out a thorough assessment on the long-term impact of the withdrawal of support payments," they said.
Brexit deal
Ms Griffiths repeated warnings that leaving the EU without an agreement would be "catastrophic" for the food and farming industry.
Asked by BBC Wales whether she supports Theresa May's Brexit agreement as it stands she said she would need to look at it "in much more detail".
"It could be that this deal is the best deal we're going to get," she said.
"Obviously we will see what will happen in parliament and we're also going to have to debate it [in the Welsh Assembly] too and really drill down into the details."
Several groups representing the industry are urging support of the prime minister's plans.
Meat Promotion Wales said the industry's future could be at risk by "a failure of parliamentary arithmetic", while NFU Cymru said the deal was "an opportunity that needs to be taken".