Severn toll scrapping drives £10m boost for Caldicot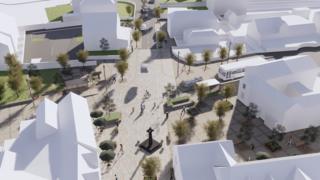 Long-awaited plans to boost a "tired" town centre set to benefit from next month's scrapping of the Severn tolls have been welcomed by councillors.
Caldicot will get new homes, refurbished shops, and a pedestrian-friendly street as part of a £10m project by Monmouthshire council.
Head of enterprise Cath Fallon said there was a need to improve investor confidence in the town.
The decision to end the tolls has boosted demand for housing in the area.
The scheme, to be partly funded by the Welsh Government, is being considered as part of the wider regeneration plans of the Cardiff Capital Region City Deal, according to the Local Democracy Reporting Service.
A previous report to council said Caldicot's proximity to high growth areas in the Midlands and south west of England was "enviable".
But Ms Fallon told Monmouthshire's economy and development select committee that the town had to be made more attractive to new residents and businesses.
"We're looking to provide a stimulus for the town centre with a view of improving investor confidence, in-town living and activity," she said.
"It's about improving the ambience and environment of Caldicot, not just the regeneration element."
Alan Davies, a Labour member who represents Caldicot, raised questions about parking and traffic congestion, but said: "It's an excellent scheme.
"Those of us that live in Caldicot thought that this day would never come."
Jim Higginson, another Labour councillor from Caldicot, added: "I'm pleased that there's some interest to make a tired town a lot better."
But Mat Feakins, a member of the ruling Conservative group, warned that market intervention by local authorities "doesn't always work".
"Sometimes you can throw money at something and it just doesn't quite change it," the councillor from Monmouth said.
He said the council should also "look at other projects in other towns" once it had finished improving Caldicot.