'Desperate need' for better farm antibiotic use data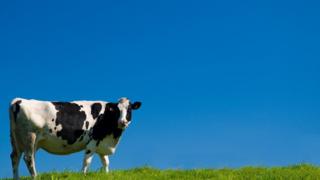 Sheep and cattle farmers in Wales have been urged to record what antibiotics they are using on their animals.
Vets and farmers have been trying to cut back on buying medicines in a bid to tackle antibiotic resistance.
Official figures show a 40% drop in sales since 2013, but only cover most pig, poultry and game bird producers.
Beef, sheep and dairy farmer records were much smaller, prompting an appeal by the Responsible Use of Medicines in Agriculture Alliance (Ruma).
Drug-resistant superbugs are considered one of the greatest threats to human health and similar moves on buying medicines have been made in the NHS.
"There are lots of bits of data, but no complete national picture - and that's what we're really after," said Ruma's chairman Gwyn Jones.
He added an online medicine book which farmers are now required to update in order to secure "red tractor" status for their meat, has been key to ensuring accurate records for pigs.
Red tractor is a farm and food assurance scheme aimed at providing traceable, safe food.
A similar scheme for beef and dairy cattle is being piloted by the Agriculture and Horticulture Development Board.
The vast majority of Wales' farmers rear either cattle or sheep, or both.
Gwen Rees, a veterinary surgeon from Llanelli, Carmarthenshire, is in the final year of her PhD at Bristol University, which is focused on how best to measure the use of antibiotics on farms.
"Without understanding what farmers are doing with antibiotics we can't really work out whether anything needs to change," she said.
Her research has suggested compiling data from prescription records held by vets offers a "good and accurate reflection".
"The main hope is that we start to fill in these gaps in the data," she said.
"Farmers are aware that this is such an important issue - they want to use their medicines responsibly and we need to give them all the tools they need to do that."
Mr Jones warned it was very unlikely new antibiotics developed in future would be offered to farm animals.
"They'll be needed to treat humans, so it's very important that we look after the medicines we already have, by making sure we don't have any resistance to them."