Primodos: Mum 'will always feel guilty' for pregnancy test drug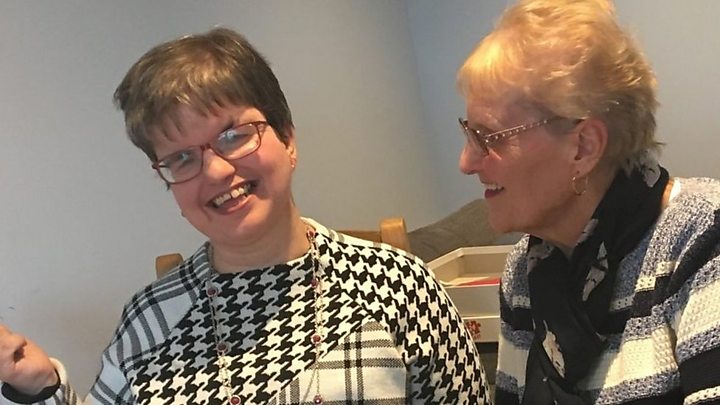 A mother whose daughter was born severely disabled says she will "always feel guilty" for taking a pregnancy test drug she believes hurt her child.
Diane Surmon was one of about a million UK women who took Primodos between the 1950s and 1970s.
A new study has linked it to babies being born with malformations, but manufacturers insist there is no evidence.
"Helen's 44 and I still feel guilty," said Mrs Surmon.
"I'm devastated, because I realise it's my fault. Helen's like this because of me, and as much as people say you shouldn't feel guilty, you do."
Mrs Surmon, now 73, spoke out as new research pointing to a link between the drug and babies being born with severe disabilities and deformities was presented to a UK government review.
The controversial hormone drug test was given to women in Britain by GPs between 1953 and 1975 to test if they were pregnant. It was withdrawn in 1978 for safety reasons.
The two tablets worked by triggering a period if the woman was not pregnant, replacing urine sample testing which took up to a fortnight to give results.
But campaigners claim it caused birth defects in their children, such as blindness, deafness, spina bifida, and heart and limb defects, or even killed their babies.
An alert letter was sent to all UK GPs in 1975 warning them of a possible association between the test and abnormalities, and later a warning was placed on the packaging saying it should not be given to pregnant women.
In 1982 legal action against Schering - the original manufacturer of Primodos - was halted due to a lack of evidence, and a government-led review last year found there was no scientific evidence to show it caused harm.
The Medicines and Healthcare Products Regulatory Agency (MHRA) said the latest study - which is currently undergoing peer review - "does not contain new data".
'Go home and forget about her'
When Mrs Surmon gave birth to her daughter at the Royal Gwent Hospital, in Newport, in 1974, she knew something was not quite right.
Helen was born blind, with fluid on the brain. She had problems with her feet, spine and a claw-like finger on one hand and suffered from seizures.
Then when she was 12 weeks old the little girl was being taken from her home in Cwmbran to her christening in Wrexham when she had a brain haemorrhage.
Mrs Surmon, who now lives in Barnstaple, Devon, said doctors at the University Hospital of Wales in Cardiff said her daughter "would never do anything, she would never walk, she would never talk, and if I was you I would go home and forget about her".
"Unfortunately my parents also thought I should have left Helen where she was and not have brought her home - but she was my child, and I love her," she said.
Mrs Surmon, a former nurse, insisted on a second opinion from Great Ormond Street Hospital.
She said a doctor there told her the likeliest cause of Helen's disabilities was Primodos, which would have interrupted her baby's development at a crucial stage.
Helen still has the life-threatening seizures and needs round-the-clock care in a home.
"However long Helen lives you blame yourself for how she is, what sort of quality of life is she going to have," said Mrs Surmon, who said she also felt Helen's disabilities had impacted on her other two children's lives.
Mrs Surmon hopes she and other parents will now be able to take their case to court.
"I took those tablets in good faith, but I didn't think it would do the damage it's done," she added.
"I'm angry Helen will never get married, she won't have children, she's not going to come and knock on my door and say 'mum I've brought the grandchildren to see you'. She's missed out, who knows what she might have achieved in her life.
"All the parents are getting older, we've been fighting this for 40 years."
Parents' legal challenge hope
New research by Prof Carl Heneghan, from Oxford University, examining all previous human studies concerning the drug has concluded the "use of oral HPTs in pregnancy is associated with increased risks of congenital malformations".
The study was presented to the UK government review, led by Baroness Julia Cumberlege, into concerns about Primodos, vaginal mesh, and the epilepsy drug sodium valproate.
Marie Lyon, chairwoman of the Association for Children Damaged by Hormone Pregnancy Tests, said the findings were the significant breakthrough the families needed to launch a new legal challenge.
Bayer, who took over from the original manufacturer of Primodos, said it was aware of the UK government review into the safety of medicines and medical devices.
A spokeswoman said: "This follows a review by an independent Expert Working Group on Hormone Pregnancy Tests of the Commission on Human Medicines that has already found, consistent with Bayer's view and based on all available data, that the scientific evidence does not support a causal association between the use of hormone pregnancy tests, such as Primodos, and birth defects or miscarriage."
An MHRA spokesman said the new study was "a different approach" to the analysis of existing historic observational data which was thoroughly reviewed by the Commission on Human Medicines' Expert Working Group on Hormone Pregnancy Tests.
"The review by the expert working group was comprehensive, scientifically robust and independent.
"Based on these and a wide range of additional data, the review concluded the available scientific evidence did not support a causal association between the use of HPTs such as Primodos during early pregnancy and birth defects or miscarriage."
He added that the MHRA would consult independent scientific experts for their views on the new study.