Kiara Moore river death: Toddler 'left for minutes' in car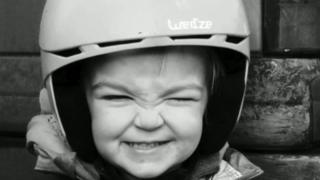 After fearing their car had been stolen with their two-year-old daughter inside, a couple then found it had rolled into a river, an inquest heard.
Kiara Moore was found inside the vehicle in the River Teifi, Cardigan, in March and later pronounced dead.
In recording a conclusion of misadventure, coroner Peter Brunton called it "a catastrophic event" to happen to any parents.
Kiara had been left alone for two minutes as her mother went to get cash.
In a statement issued after the inquest, Kiara's family said she was "an amazing little girl who lived a life full of love and adventure".
The hearing at Aberystwyth Justice Centre was told the silver Mini was parked on a slipway outside the family business, Adventure Beyond, on 21 March.
Kiara's mother Kim Rowlands put her daughter in the vehicle at about 15:30 GMT and went to get cash from inside the business.
When she returned the car had "vanished" and police were called.
But CCTV footage showed in the two minutes Ms Rowlands had left Kiara, the car had rolled into the river.
PCSO Caryl Griffiths, who dived into the water when the car was located in the river, broke down as she described to the inquest her efforts to get to Kiara.
"I dived head first into the river, the water was freezing cold and I could tell the current was really strong, pulling my head under the water.
"It was dirty and I could not see anything underwater."
Another police officer joined and helped Ms Griffiths smash a window.
"I immediately felt Kiara's body float out of the car into my arms," she said, adding she knew it was the toddler as she was wearing a pink jacket described by her parents.
Ms Griffiths said after she got Kiara's body to shore, another officer began performing CPR.
The girl was flown to the University Hospital of Wales in Cardiff, where she was pronounced dead.
But the inquest was told Kiara would have drowned within 30 seconds of the car entering the water.
In a statement Ms Rowlands described her daughter "singing, shouting and laughing" when she left her, but not strapped in and in a "mischievous mood".
She said her only guess was she had "a funny five minutes".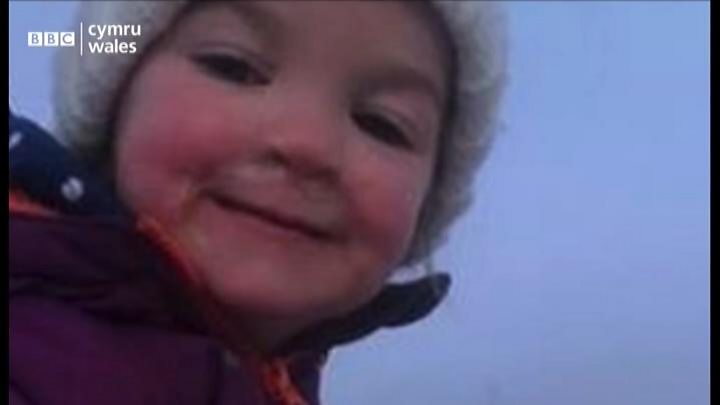 Her father, Jet Moore, said there had not been any issues with the Mini apart from "normal wear and tear" and Kiara knew not to play with the controls and "had no interest".
The inquest was told the vehicle was found in third gear without the handbrake applied.
Forensic vehicle examiner Aled Thomas said the handbrake was efficient and it would have taken "some effort" to release it.
The cause of Kiara's death was given as immersion, with the coroner saying on the balance of probabilities, the handbrake had not been set when Kiara was left in the car.
No charges were brought by Dyfed-Powys Police.
The family's statement said: "She left us all with a huge gap in our lives this year.
"Since she has been gone, not a day has passed where we have not spoken about her life with us, her brother, sisters and wider family.
"We had so many adventures with her in her short life."